Overview:
Facebook Business Manager is Facebook's primary tool for marketing management. When you run ads that require specific conversion or audience targeting, business manager provides you with the tools to control your advertisings more complex components. Facebook Business Manager Accounts are a collection of services that includes Users, Accounts, Data Sources, Brand Safety, Registrations, and Integrations. The purpose of this guide is to provide the steps for setting up your Facebook Business Manager initially. For more information about specific usage of the platform, please check if your problem is directly covered in our index!
1. Log In To Facebook Business Manager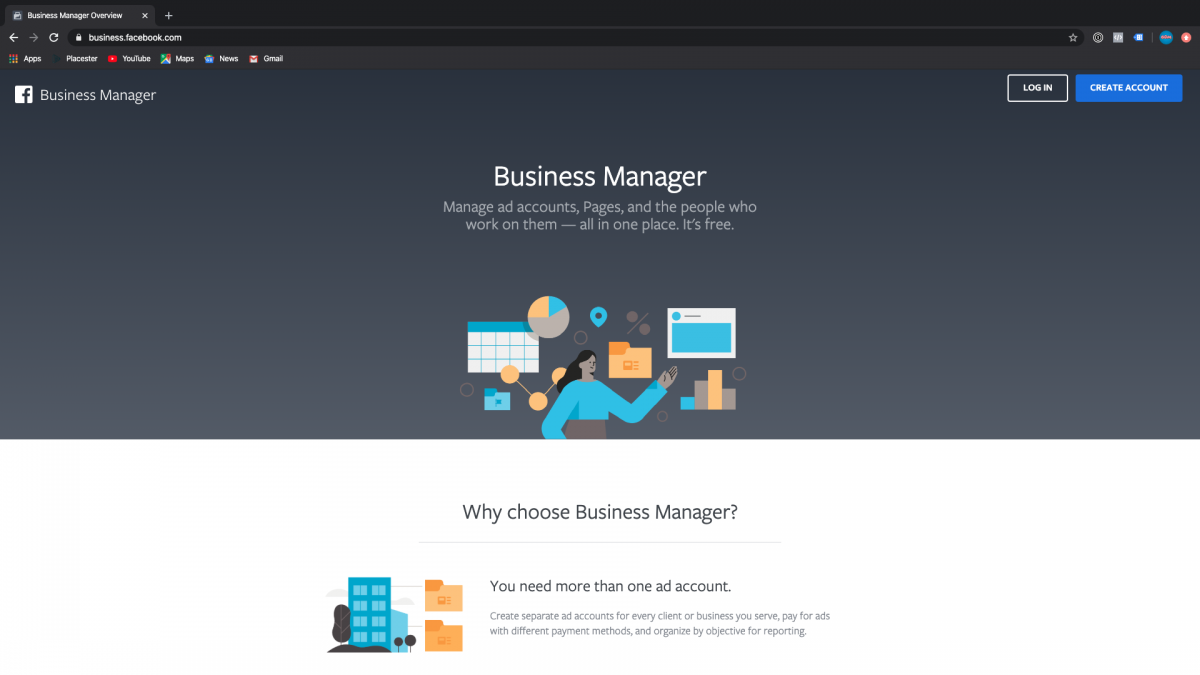 The Facebook Business Manager interface can be found at this URL: business.facebook.com. You will need to use your Personal Facebook Email Address to Register your Facebook Business Manager account. From the above page click create account to enter the Business Manager Create Account Wizard. This will walk you through the basic setup steps including first Business Account Setup. Once you complete the wizard, it will take you to the Facebook Business Manager Account Overview.
2. Using Facebook Business Manager Tools
Now that your account is setup, we will go over some of the most important functions of Facebook Business Manager
A. Facebook Page Management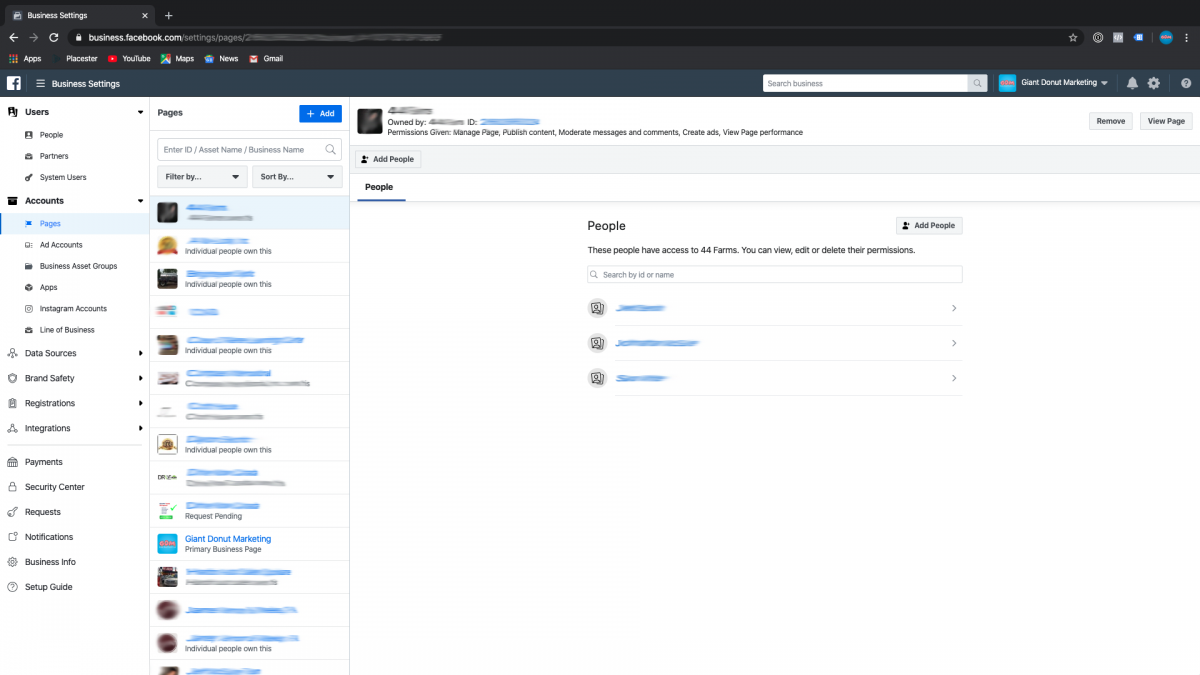 Facebook Business Manager makes managing your business or client's Facebook pages a breeze. From the Facebook Business Manager Account Overview click Accounts, then click Pages. There are several different ways to Add new or existing Pages to your Business Manager Account.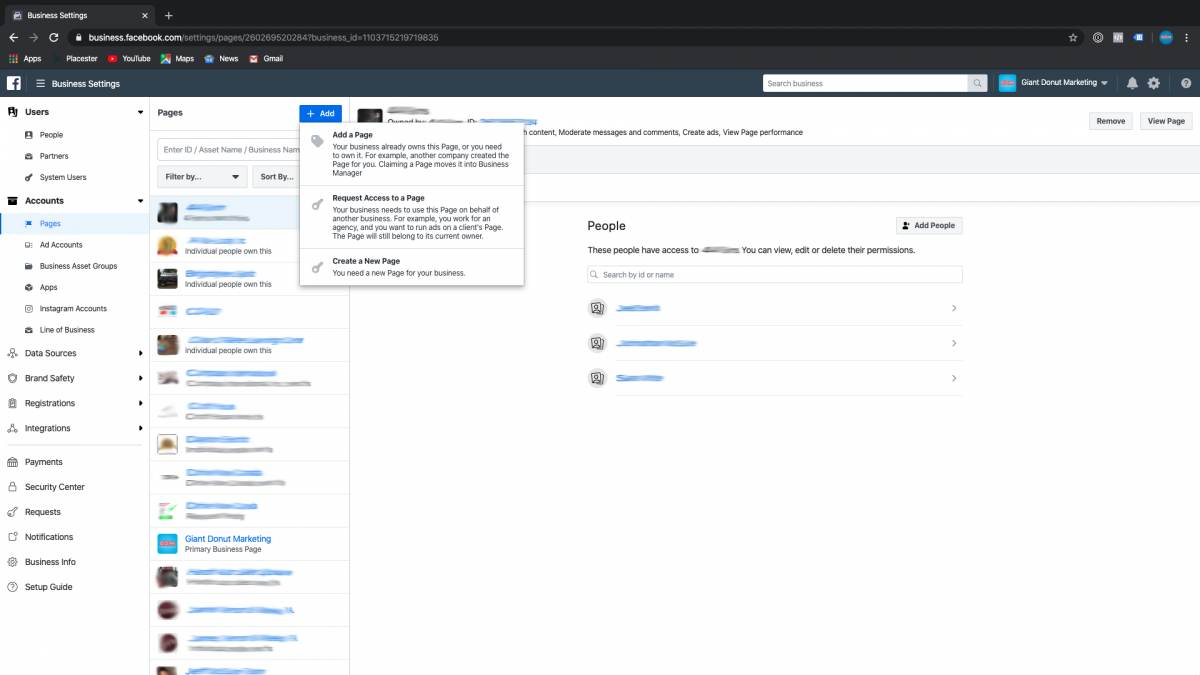 Option 1: Add A Page to Business Manager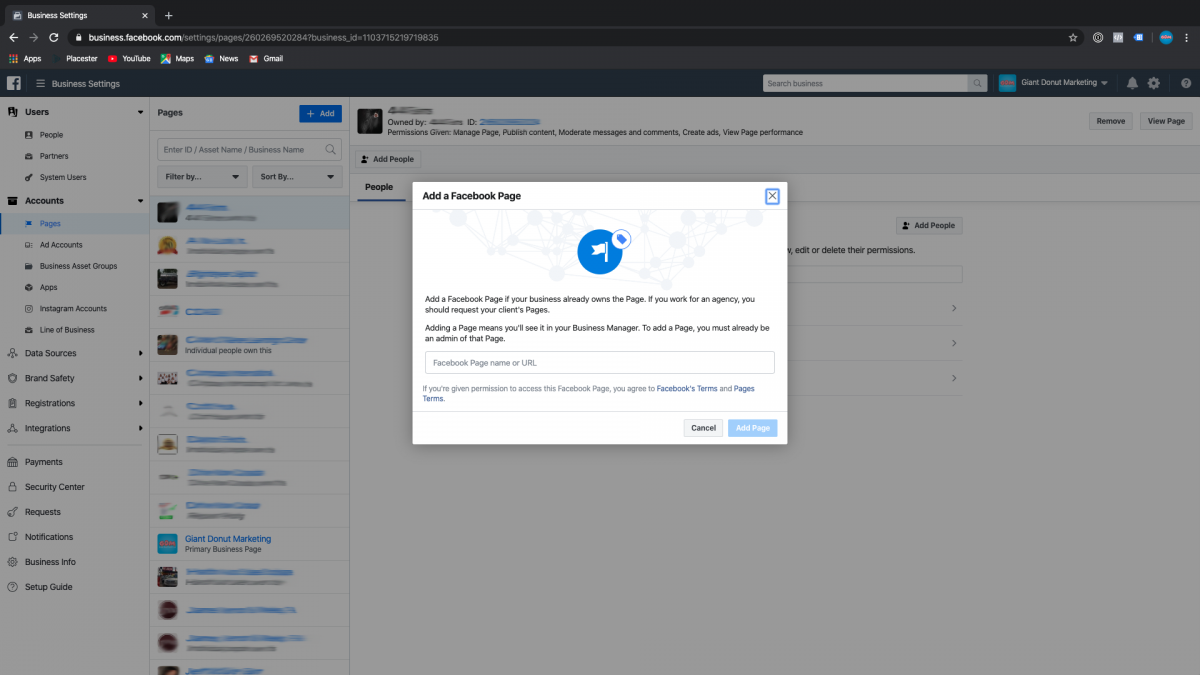 If you are a single location business, or are setting up Business Manager for yourself, you will want to add your existing Facebook page to Google Business Manager by clicking the Add a Page menu option. This will send a request to the page you are asking to manager. Login from the Non Business Manager and confirm this request through your front end Facebook Page management platform. You can learn more about that process here. Once that request is confirmed, you will have access to that Page on Facebook Business Manager.
Option 2: Request Access to a Page in Business Manager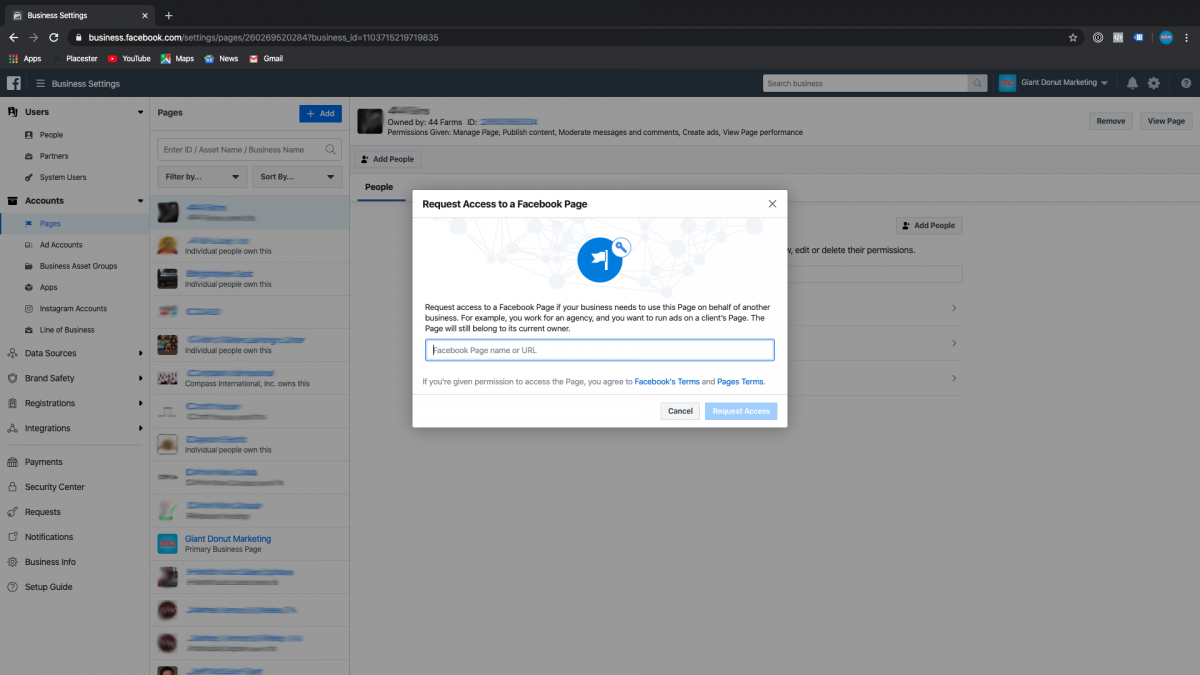 If you are an Agency, or have more then one Facebook page, you will want to send a access request to the page owner. This will grant your agency permissions to the page without taking over ownership of the Facebook Page. This is important in case the business owner and your agency part ways, since they will want to retain ownership of their Facebook page separate from your Agencies business manager account!
Option 3: Create a New Facebook Page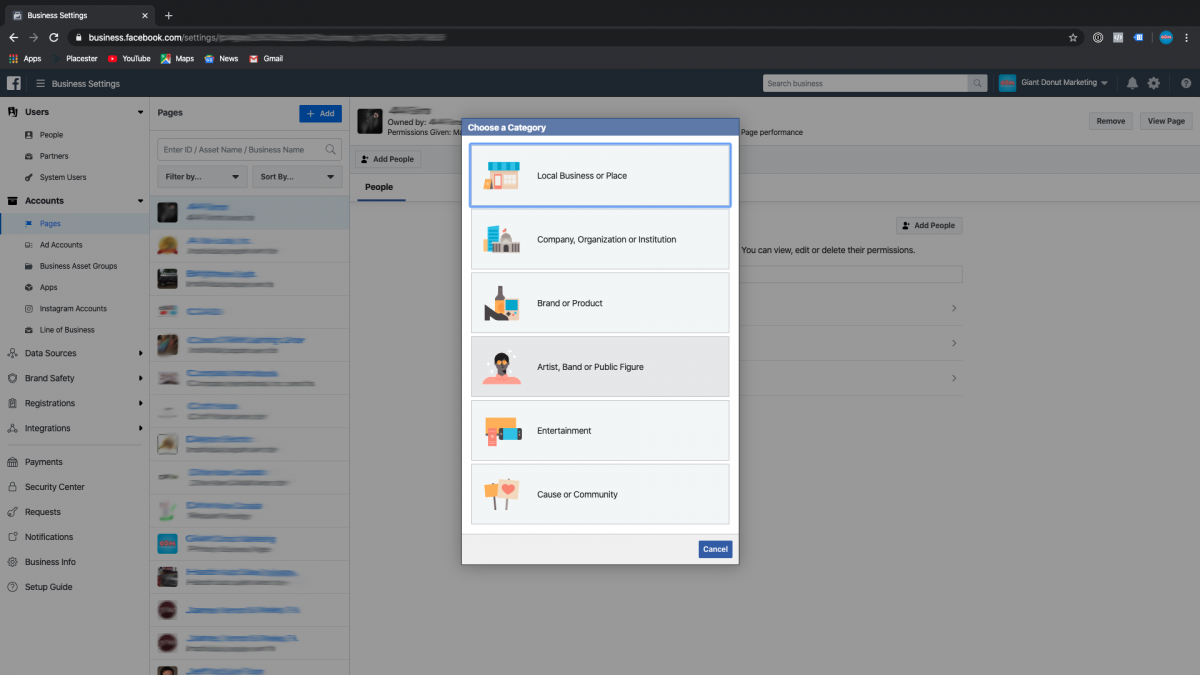 Choosing this option will guide you through the new page setup process in Facebook Business Manager. This process has several secondary steps.
1. Add A New Facebook Page: Local Business or Place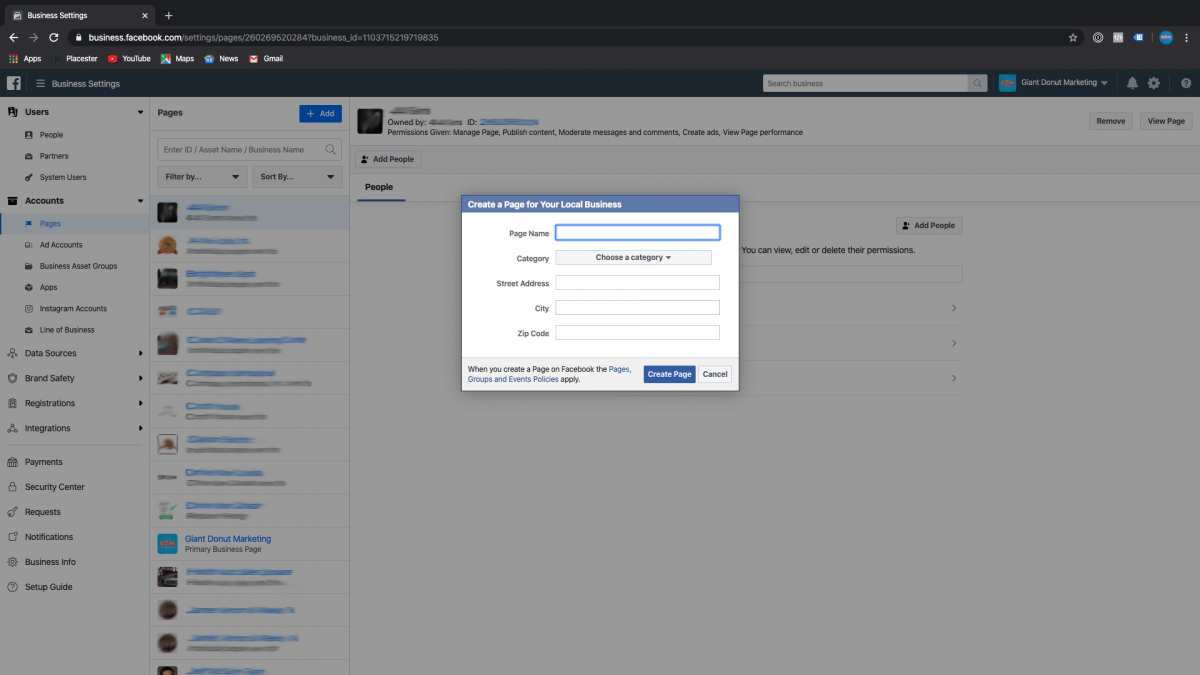 This option requires the most work. After choosing the Local Business or Place option, it will open the New Local Business Page Wizard. Once you have entered all the pertinent information, press Create Page to complete the setup process.
2. Add A New Facebook Page: All Other Types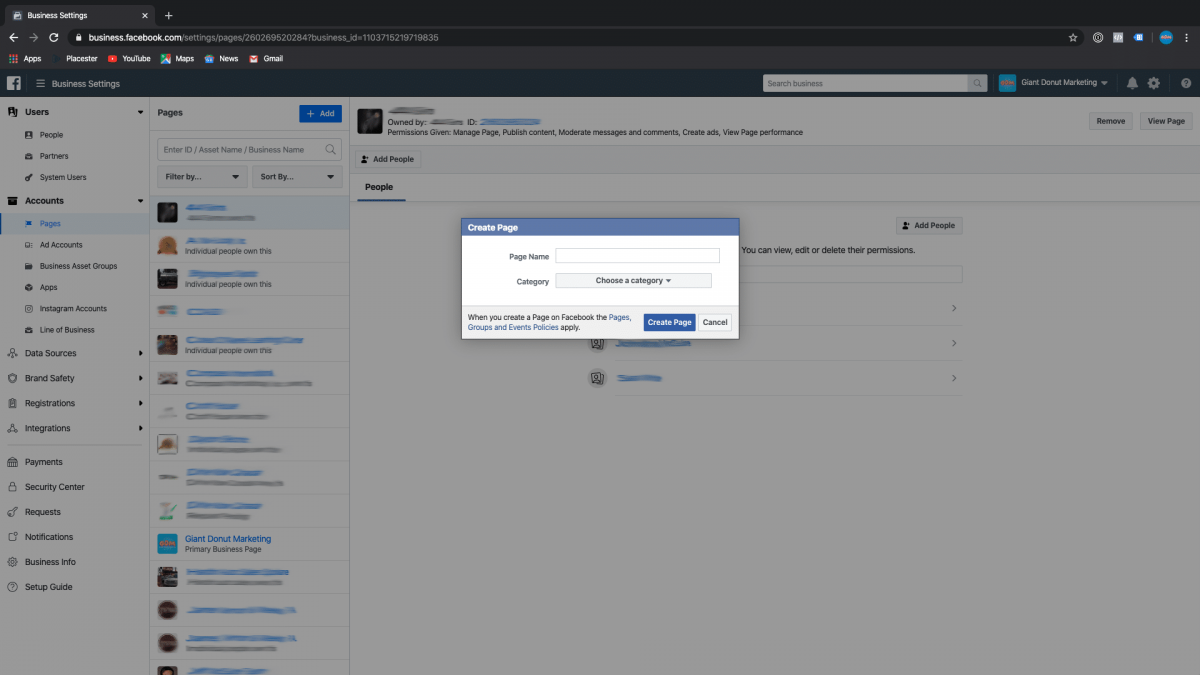 When adding any other page, you will simply choose the Page Name, and the Page Category. Each category dropdown is different depending on which initial Page Type you chose. Once you have named the page and chosen the category, press the Create Page button to complete setup!
B. Facebook Ad Account Management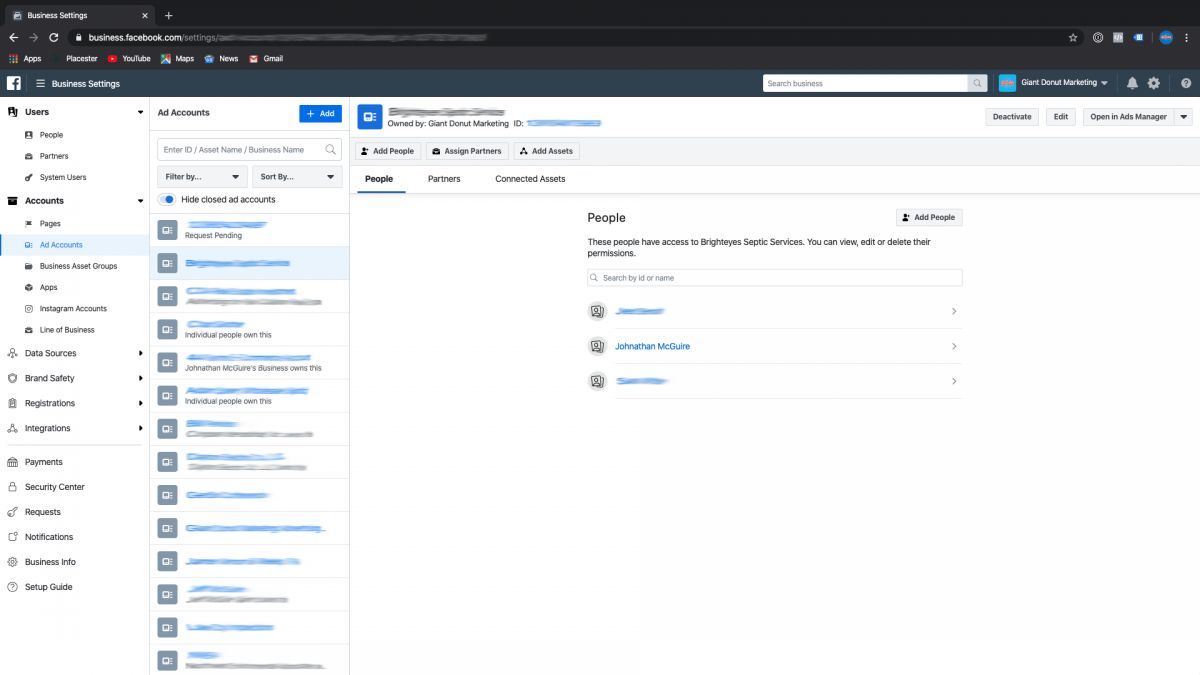 One of the most complex portions of Facebook's advertising back end, Facebook Ad Accounts control several aspects of the Facebook advertising platform. Ad Accounts are linked to Pages, Pixels, and Billing, along with other ad type specific components. You will use this interface whenever you need to add/remove new users, change ads, or change billing information, so a good understanding of how to manage Facebook Ad Accounts is vital! Facebook Ad Accounts are accessed under the Main menu tab for Accounts. To add a new Ad Account click the blue + Add button.
Option 1: Add an Ad Account (For Existing Accounts Outside Business Manager)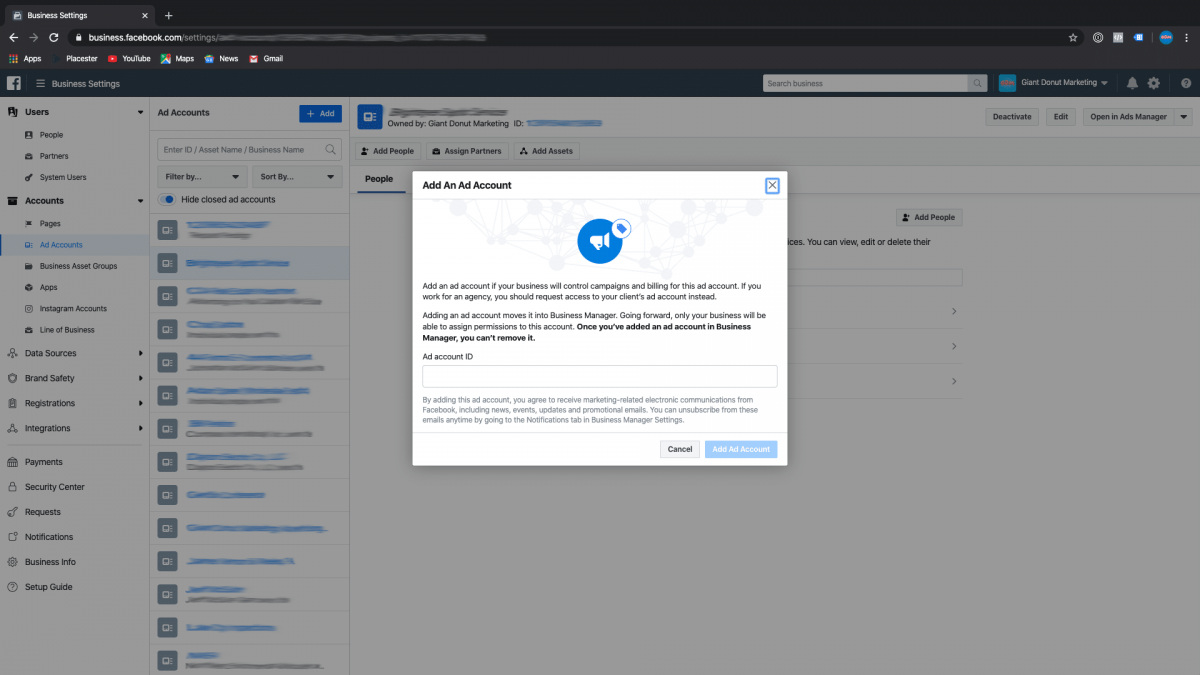 Please Note: Once an Ad Account has been added to Business Manager, you cannot remove it, so make sure you want to complete the merger.
Adding an Ad Account to business manager allows multiple parties to manage the advertising campaign, rather then using the Facebook Page advertising interface. Ad accounts can only be added to Business Manager one time, and they should be owned by the business owner. Agencies that need access to Ad accounts should use the second Add Account option.
Option 2: Request Access to an Ad Account.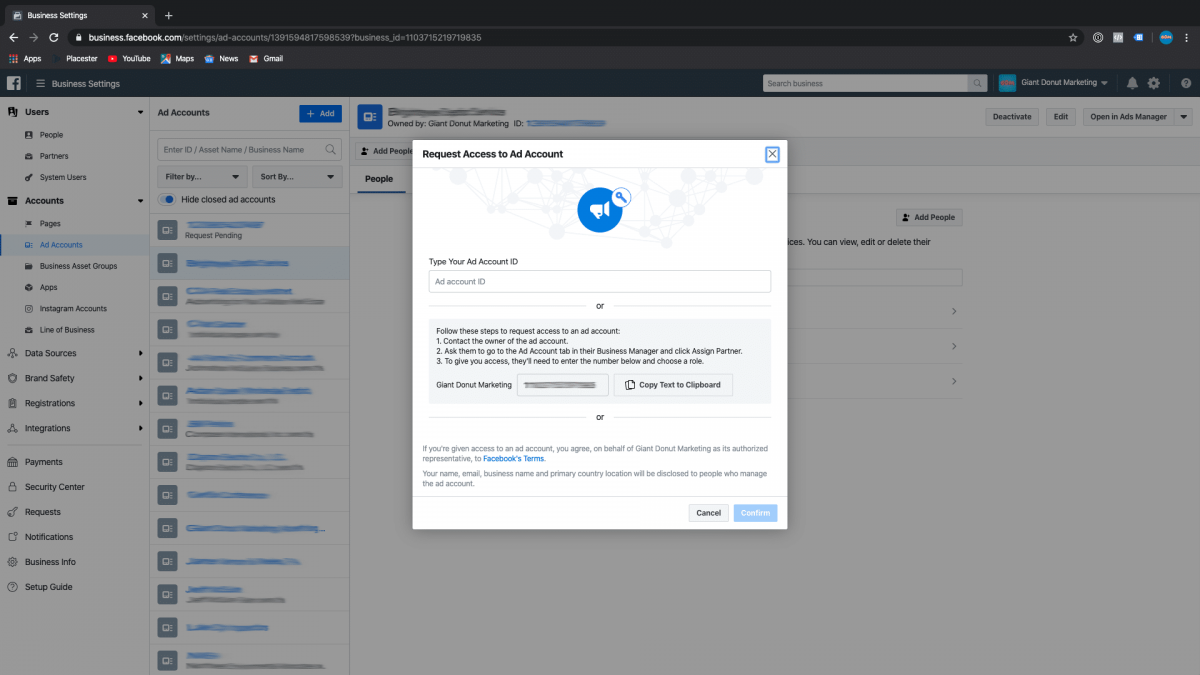 If you are not a business owner, and you need administrative access to their add account, you will Request Access to their account. All you need to request access to their Ad Account is the Ad Account Number. This is the blue number that appears directly below the Ad Account Name on the Ad Account Overview.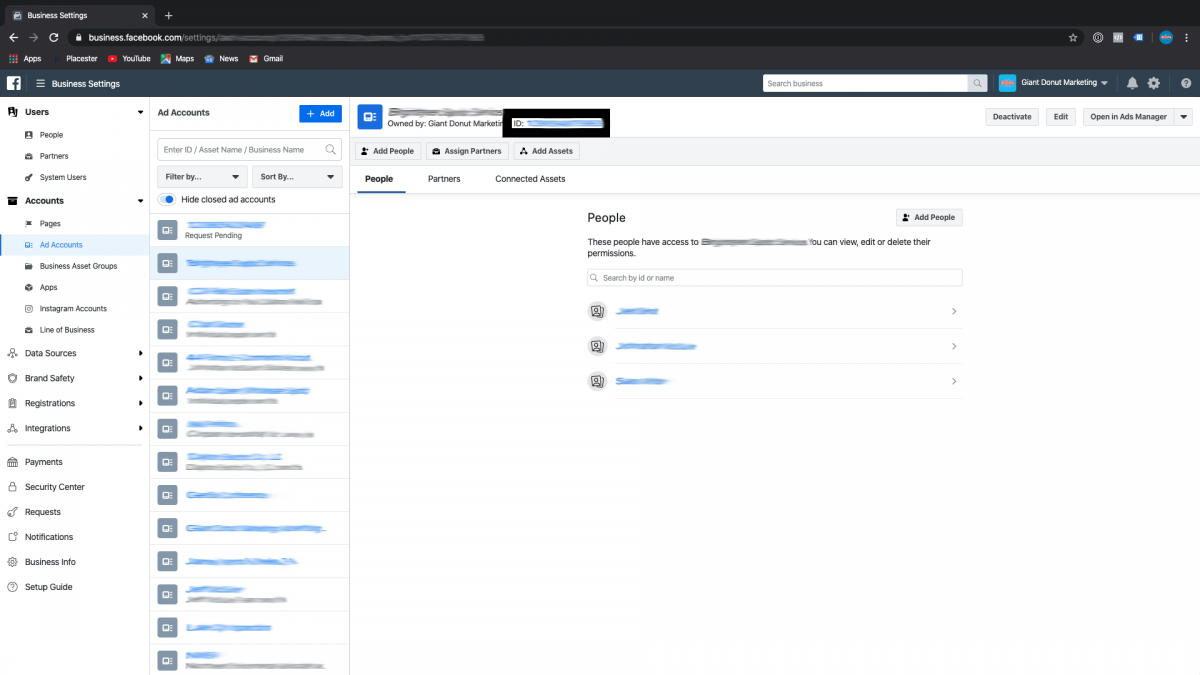 This will submit the Ad Account Request to the Business Manager Ad Account Owner, and they can grant your access from either the Desktop version of Business Manager, or the Business Manager App for mobile. It will typically popup under their notifications, and if not can be accessed from Page Roles on the Facebook Page itself.
Option 3: Create New Ad Account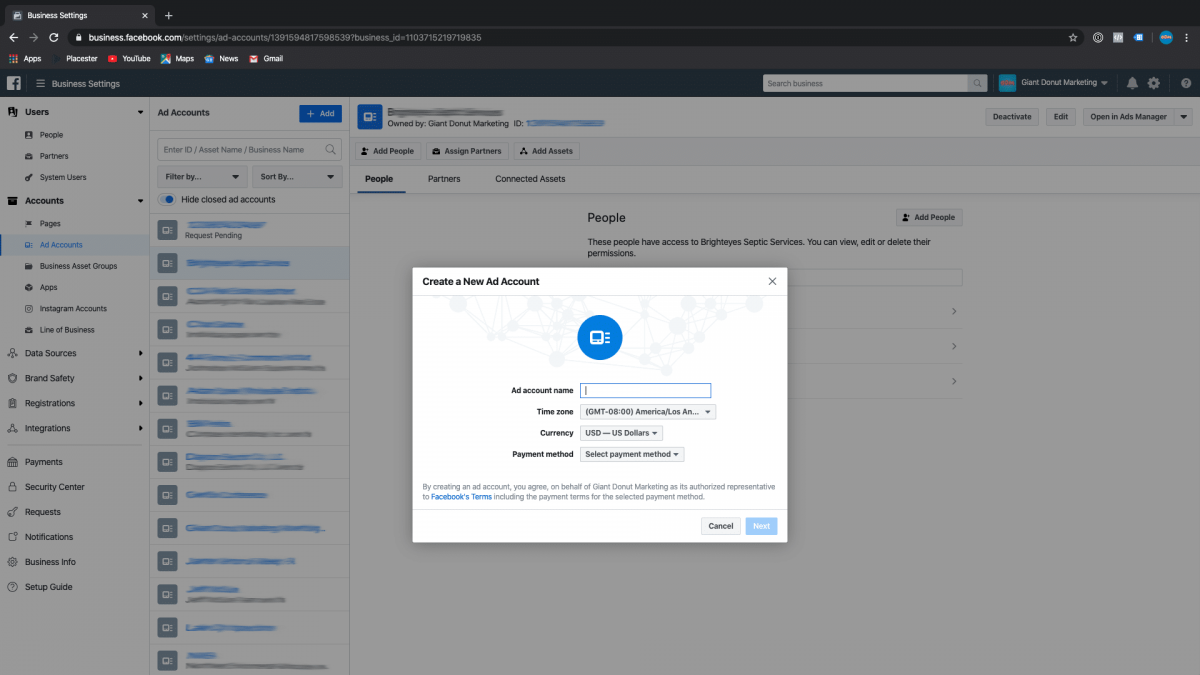 The last option is creating a new ad account. This is for businesses new to Facebook advertising, as well as users who have been using the Facebook Page advertising platform instead of the Business manager ad account. You will setup the account name, time zone, currency, and payment method. You can setup the payment method later from the drop down at another time if you do not have the credit card present. Once you press Save this will take you to the new ad account!
Final Note: User Authorization
Once you have created the Ad Account, you need to make sure and assign users to that add account. This is done by clicking the Add Users button in the center of the page. This will give your users access to this ad account for creating ads, audiences, and billing.
Overview:
One of the more challenging aspects of facebook advertising setup is properly using the Facebook Pixel. We often have clients onboard that have no pixel, a misconfigured pixel, or several redundant pixels. Even once installed, the Facebook Pixel needs conversion tracking setup within event manager! Here are the basic steps to installing the Facebook Pixel on your website!
1. Log In To Facebook Business Manager
The first step to setting up Facebook Pixels is logging into Facebook Business Manager. You will need a Personal Business Manager account in order to setup a new Business Manager Account.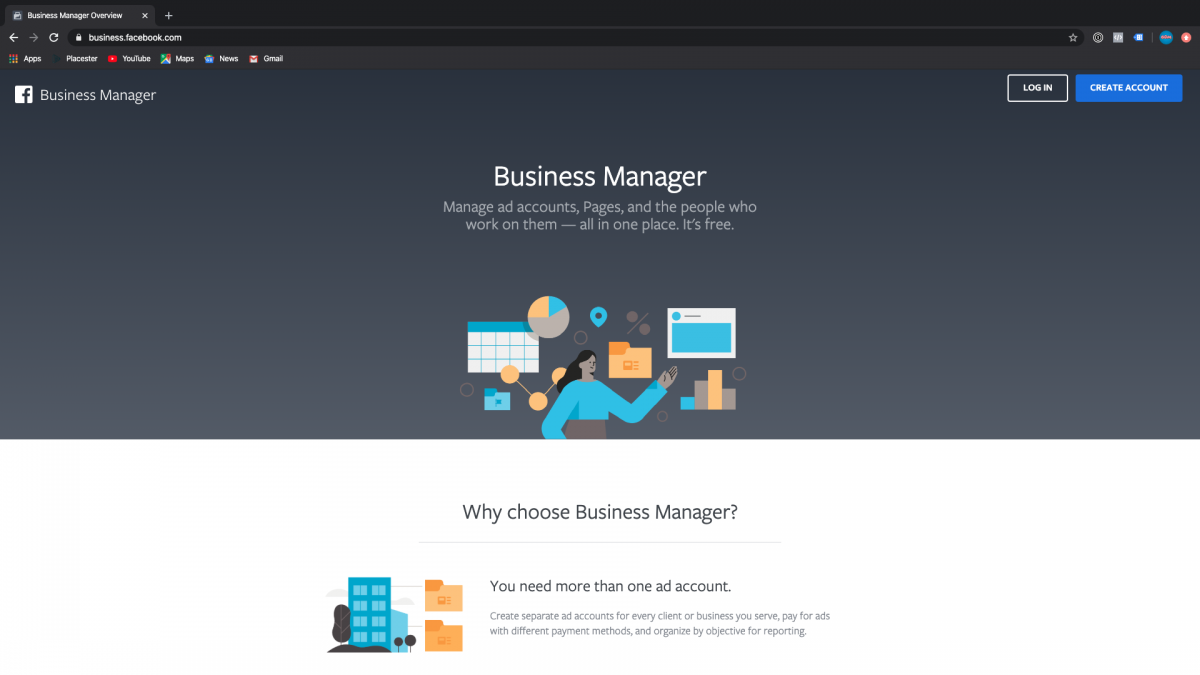 The Facebook Business Manager homepage looks like the above image with a grey Log In button, and a blue Create Account button. Clicking Create Account will take you through the Business Manager Account Setup process. You can learn how to complete that process here.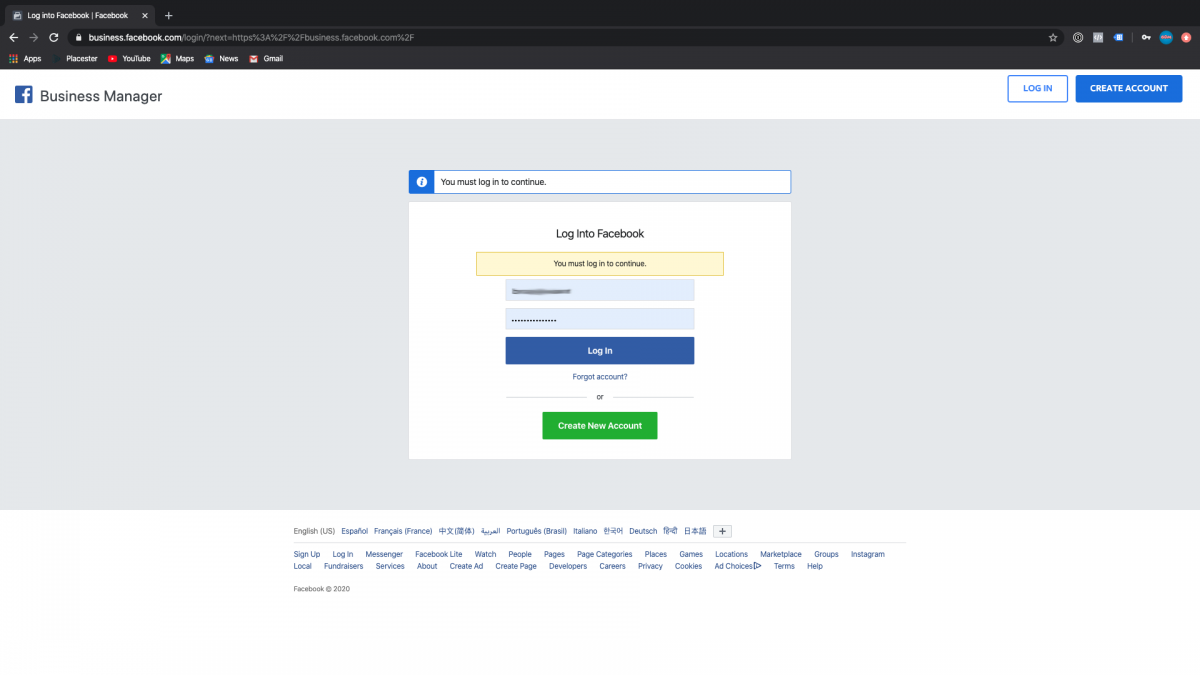 Clicking on the Log In button will take you to the login page. You use your Personal Facebook Account Email to log onto the Business Management Platform. Once you have logged in you will be taken to the Business Settings Overview Page.
3. Navigate from Business Settings to Data Sources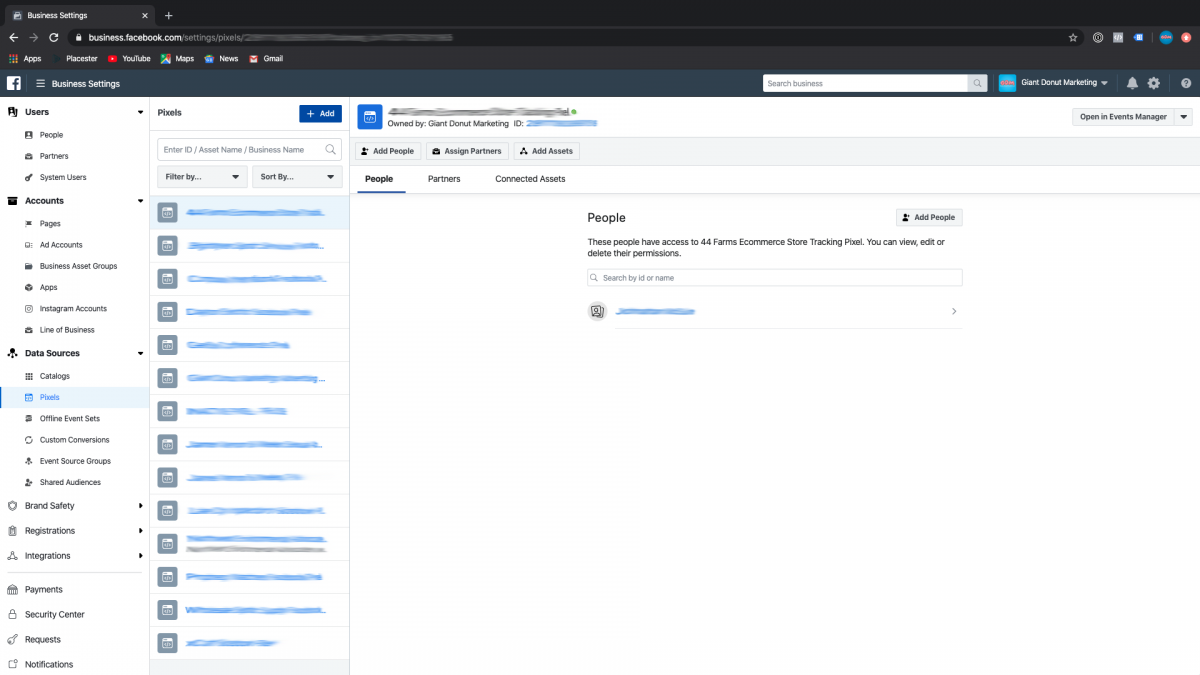 Currently (February 2020) Data Sources is the third tab from the top item on the Business Settings menu. Once you have located Data Sources, choose pixels to bring up the Facebook Pixels Sub Tab.
4. On the Pixels Sub Tab, Click the Blue Pixel + Button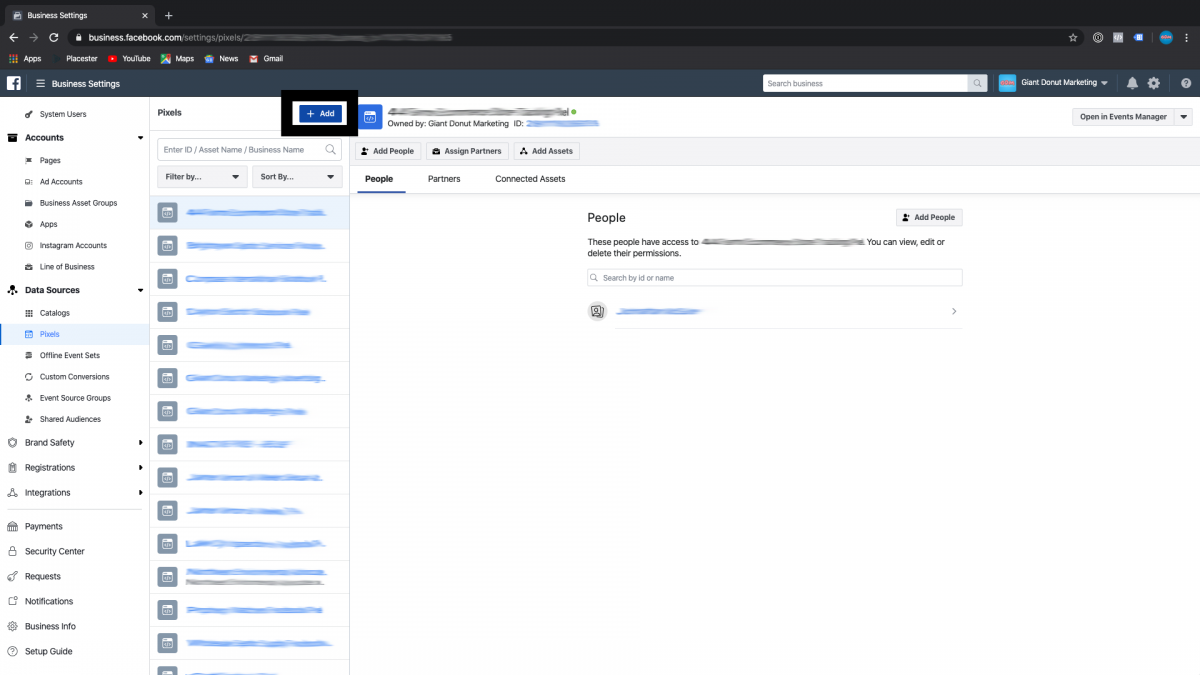 Once you have clicked pixels, it will take you to the Facebook Business Manager Pixels Overview Page. This page will show all the pixels for which you have management access. Click the blue + Add button to create a new Facebook pixel! This will bring up the Facebook Pixel Setup Wizard.
Pixel Setup Wizard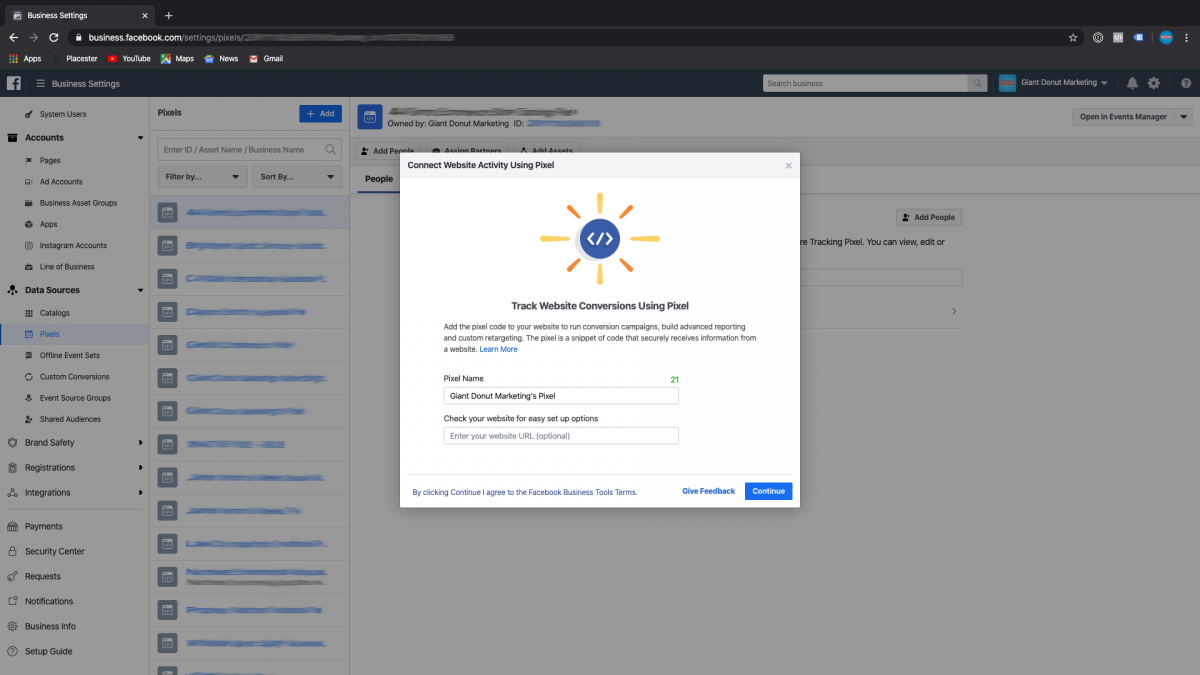 A. Track Website Conversions Using Pixel Setup And Naming Pixel
Enter The Pixel Name, as well as (optional) your website URL. Entering your site url will help Facebook identify your website CMS and they try and cater learning materials.
B. Pixel Installation Code Snippet Setup Options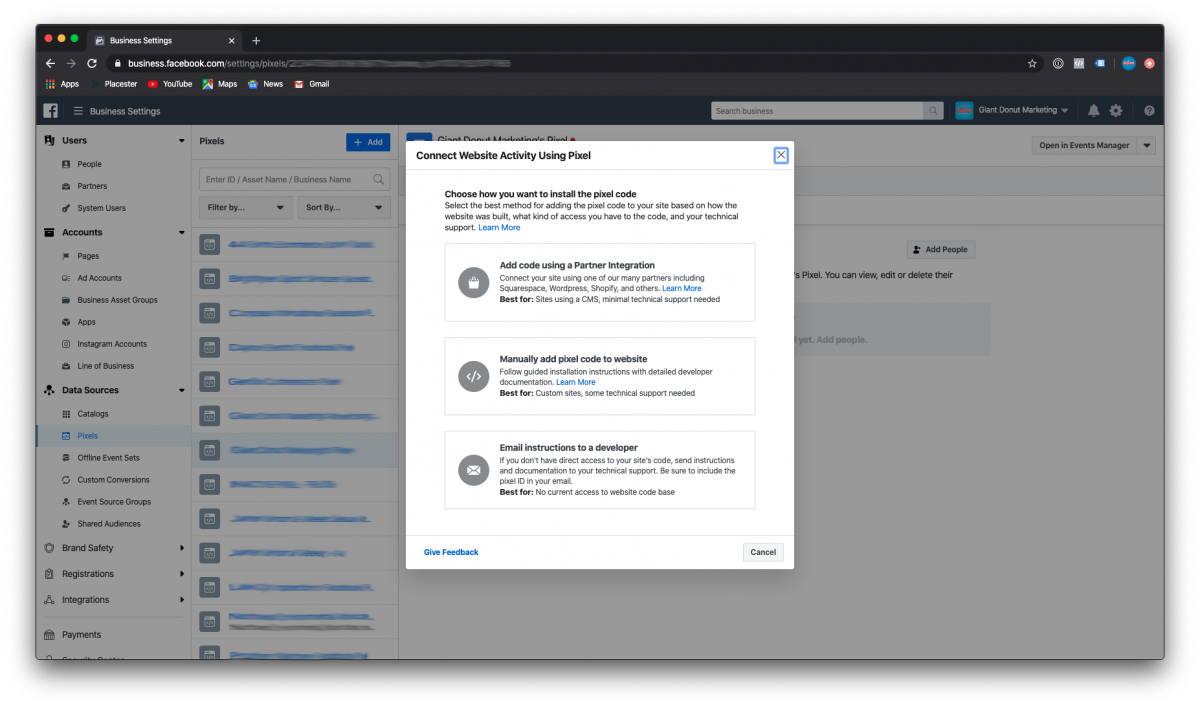 Option One: Add Code Using a Partner Integration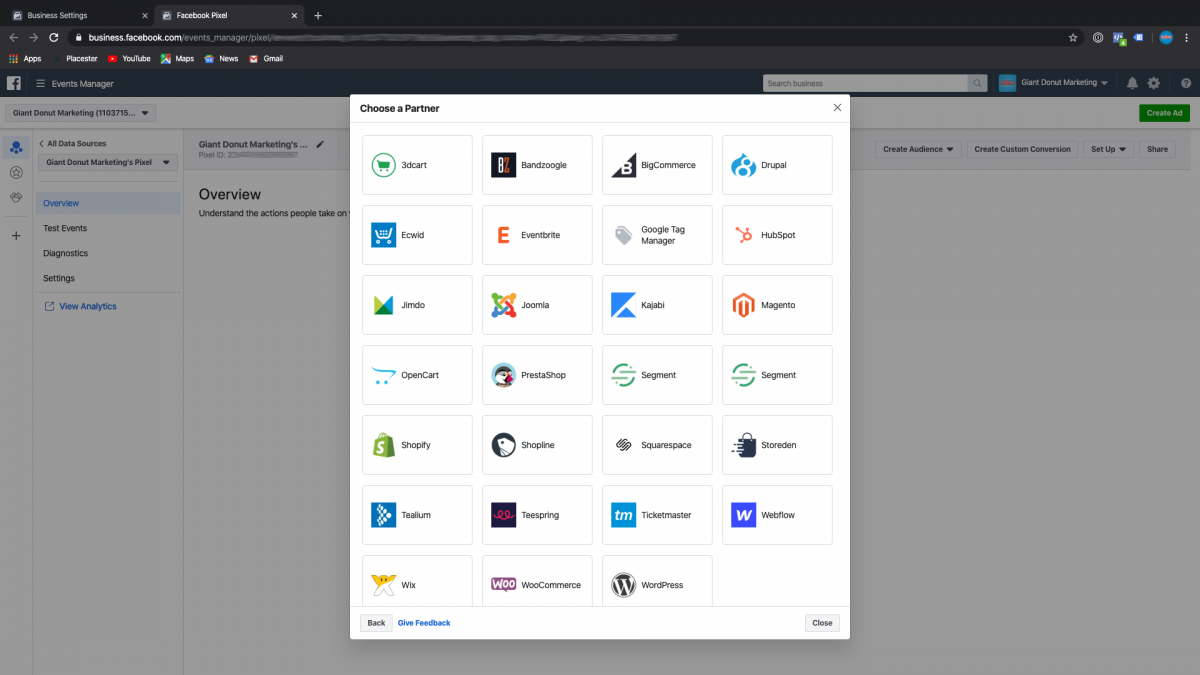 Facebook has over 50 partner integrations including the most popular website CMS systems like WordPress, Shopify, and Squarespace. Once you choose your Website CMS provider, another setup box will popup with the specific setup steps for your website. An example of this portion of the wizard is below. This is the WordPress Pixel Setup Wizard.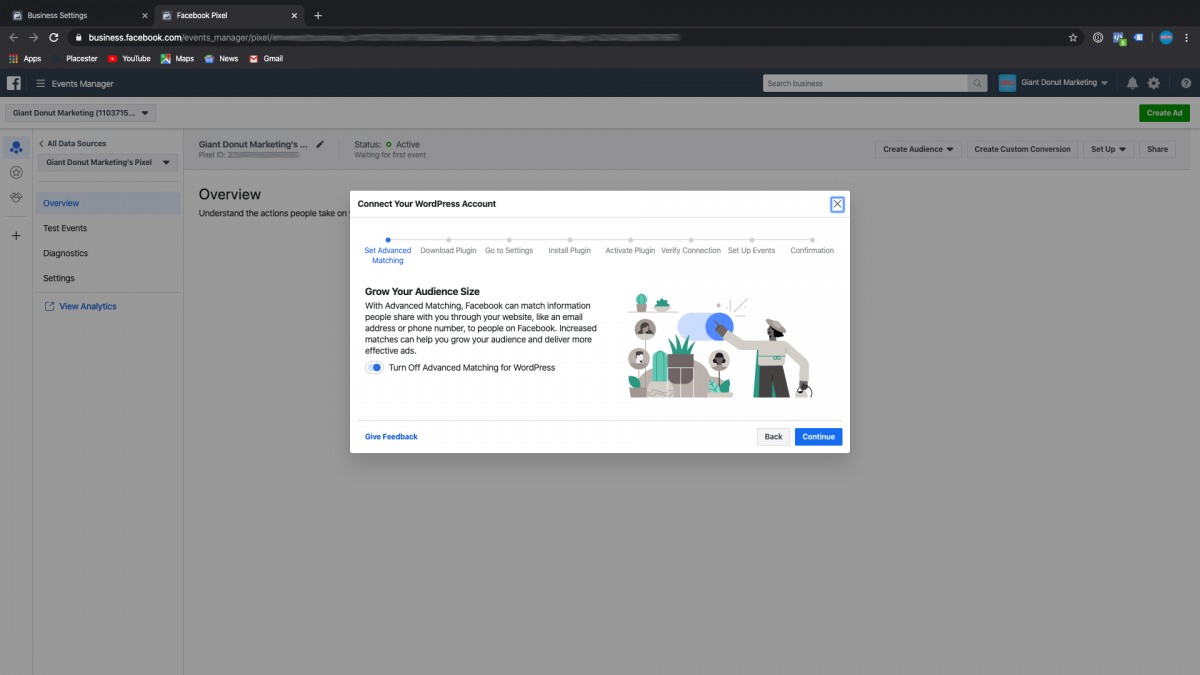 Option Two: Manually Add Pixel Code To Website
Following their Facebook setup guide, you manually install the base pixel code, and further events codes for the Facebook pixel. This process can only be completed if you are comfortable inserting code directly on your website!
A. Install Base Pixel Code in Asynchronous Header Section of the Website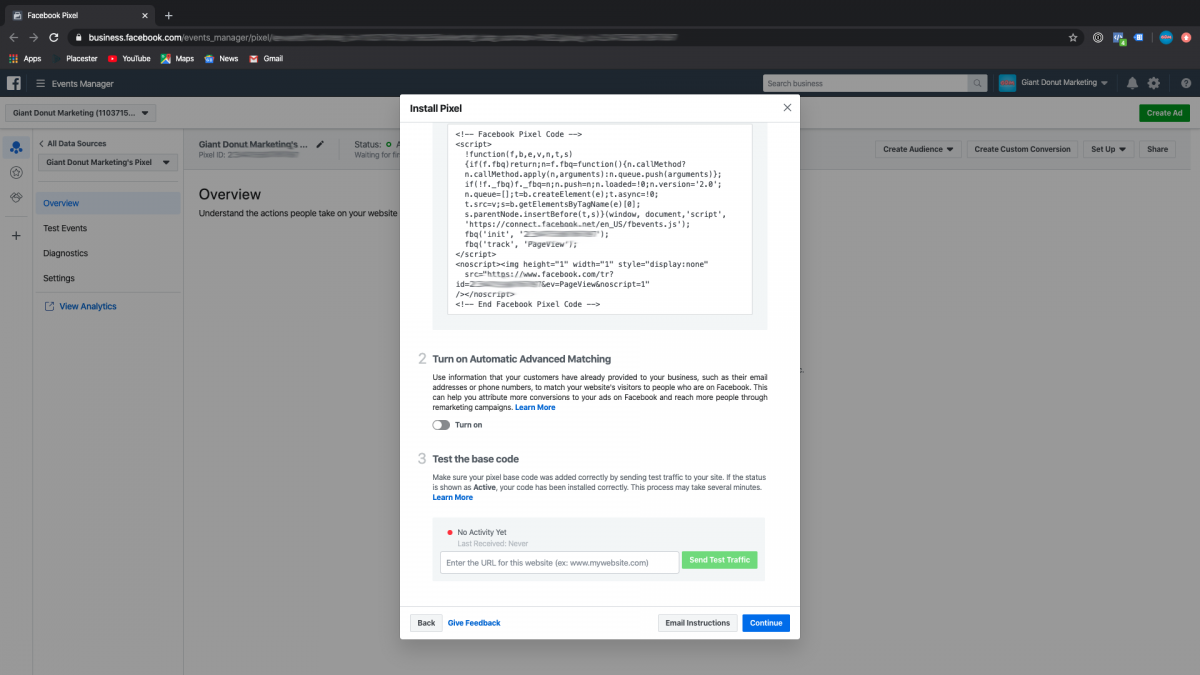 First log in to your website. Then enter the header section of your website. How you complete this action depends on your site CMS, and feel free to consult with an expert first. Place the code snippet Facebook generates in the the header section of your website, close to the body tags.
Second, make sure you turn on advanced matching (helps get more consistent user data between Facebook and your website.
B. Test The Facebook Pixel Installation With The Pixel Test Tool (seen above)
Once you have confirmed the Facebook Pixel using the Manual Pixel Installation test, you will have completed pixel setup!
Option Three: Email Instructions to a Developer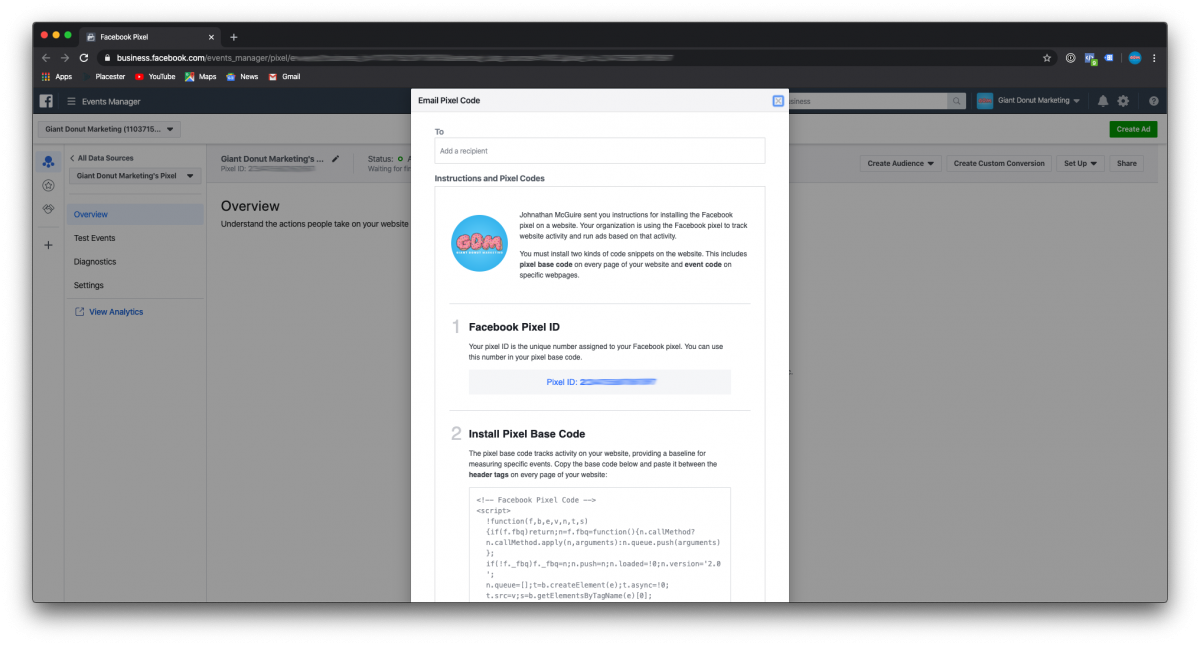 This option brings up a window for sending the base code snippet, as well as advanced instructions for a website developer. Handy to send to your web team if you need help with Pixel Installation.
Once you have completed the above steps, and you successfully test the pixel in the wizard, you will have professionally setup the Facebook Pixel from Business Manager! The next steps in the process are setting up custom audiences and Pixel conversion events!
Integral to the Google Product Suite, Google Search Console is used for tracking organic keywords, as well as diagnosing negative ranking characteristics. Google Search Console tracks your website's sitemap file, making sure your internal link structure is Google Compliant, and your Schema Markups are totally valid. Google Search Console also synchronizes your data into Google Analytics, allowing for cross channel data processing. There are several important steps to keep in mind when setting up your Search Console Account that we will cover in detail below!
Step One: Software Setup
The first step in configuring Google Search Console is to setup your account. Google Search Console is accessed at https://search.google.com/search-console. Upon successful Login you will be taken to the main Search Console Dashboard. You can add website properties by clicking the Add Property Button In The Top Left (Replaced in the below image with a site URL).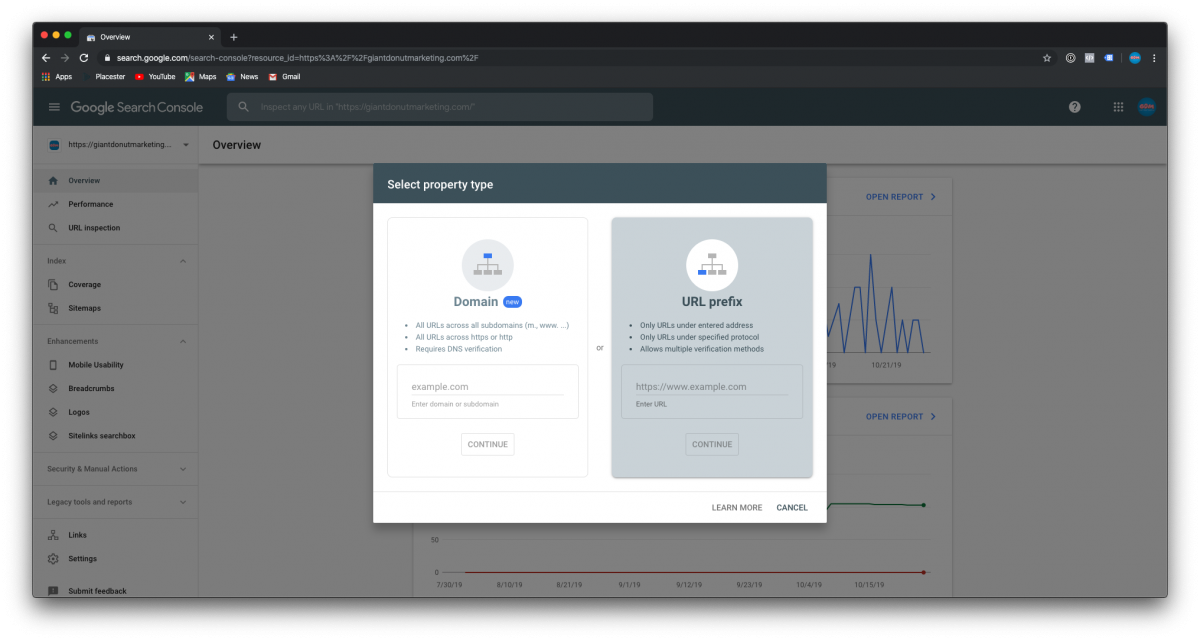 Please Note: You need to ensure the URL expression you enter into Search Console is the correct version of the URL that displays on your website. Google expects you to track all of your traffic through the same URL version, and you must maintain this expression throughout the Google Product Suite. Examples of issues include versions of URL's that contain (or don't contain) WWW, HTTP to HTTPS migrations, and incorrectly configured WordPress Url structures. Once correctly expressed, you will have finished the initial setup process and are ready for account verification!
Step Two: Account Authentication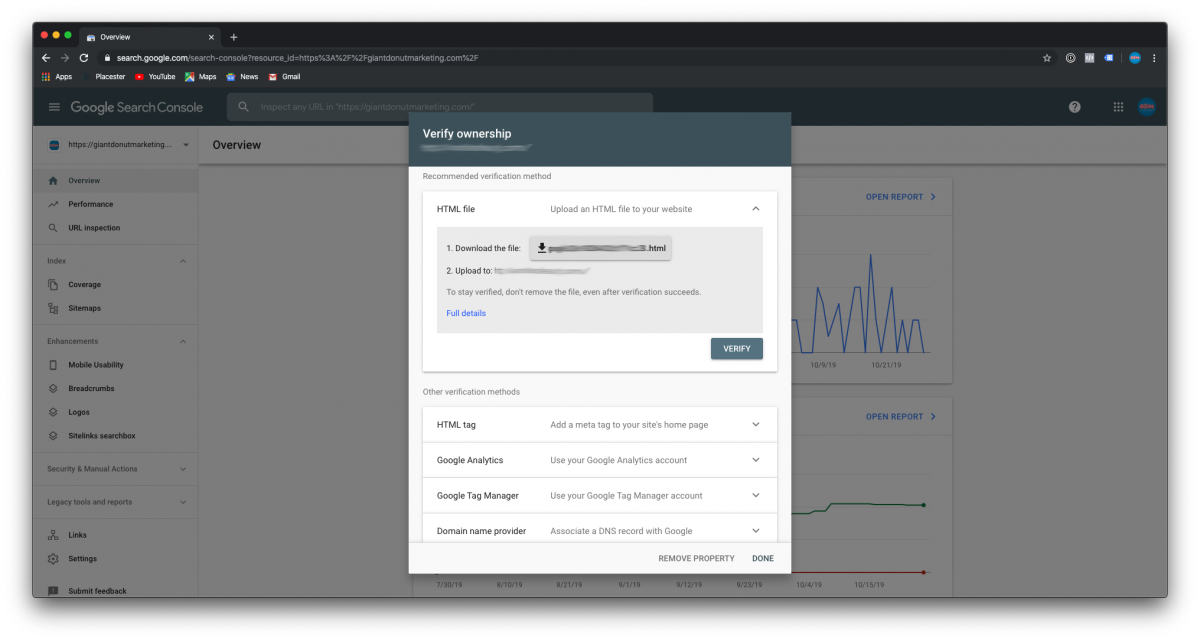 Depending on your access permissions to Google Analytics (typically the first platform setup when launching the Google Product Suite) the property will auto verify. If you fail the Google Analytics check, you will need to verify your search console account with one of the following methods:
HTML Tag Verification Method
Our Preferred type, HTML Tag Usage adds a meta tag to your sites asynchronous header section. This method is great because it is not dependent on your Google Analytics account access level, and tends to have less errors.
Google Analytics Verification Method
Another way to verify your account is with Google Analytics access. You will be able to claim your Google Search Console account if the URL expression your trying to claim matches any existing Google Analytics Profiles. Prone to failures (due to often misconfigured URL expressions) this method can also de-authenticate if your Analytics permissions change, causing ranking loss and data continuity errors. We typically advise against using this verification method.
Google Tag Manager Verification Method
Another tracking platform from Google (used to setup complex conversion interactions) Google Tag Manager can provide Search Console access through the same method as Google Analytics. More dependable then the Analytics side verification, it does require you to already have an active Tag Manager account. This technique is usually best for experts who are already well versed in usage of the Google Product Suite.
Domain Name Provider Verification Method
With this method, Google allows you to claim domain ownership level access to your Search Console account. They will expect you to login to your Registrar account, and Provide access to the Google to put a permanent record on your domain name. This record then ensures ownership long term, and is very unlikely to de-authenticate. This method is the most thorough and effective, but also has the most time lag during setup, and can sometimes run into problems with certain domain providers.
Regardless of the method you use, proper verification will yield a congratulations message, and access to your new Search Console account!
Step Three: Sitemap Configuration
From the menu on the left, click the Index Tab, then navigate to the Sitemaps portion of the Index Tab. You will need to locate the sitemap file on your website. It can typically be found off your homepage URL with either sitemap.xml or sitemap_index.xml, depending on which SEO software your using. Also make sure you don't include extra back slashes in the expression, that will cause it to fail the sitemap verification. Once you click on submit, it will push your sitemap to the Google Crawler, and the site ranking process will start! This will conclude the basic Search Console setup process!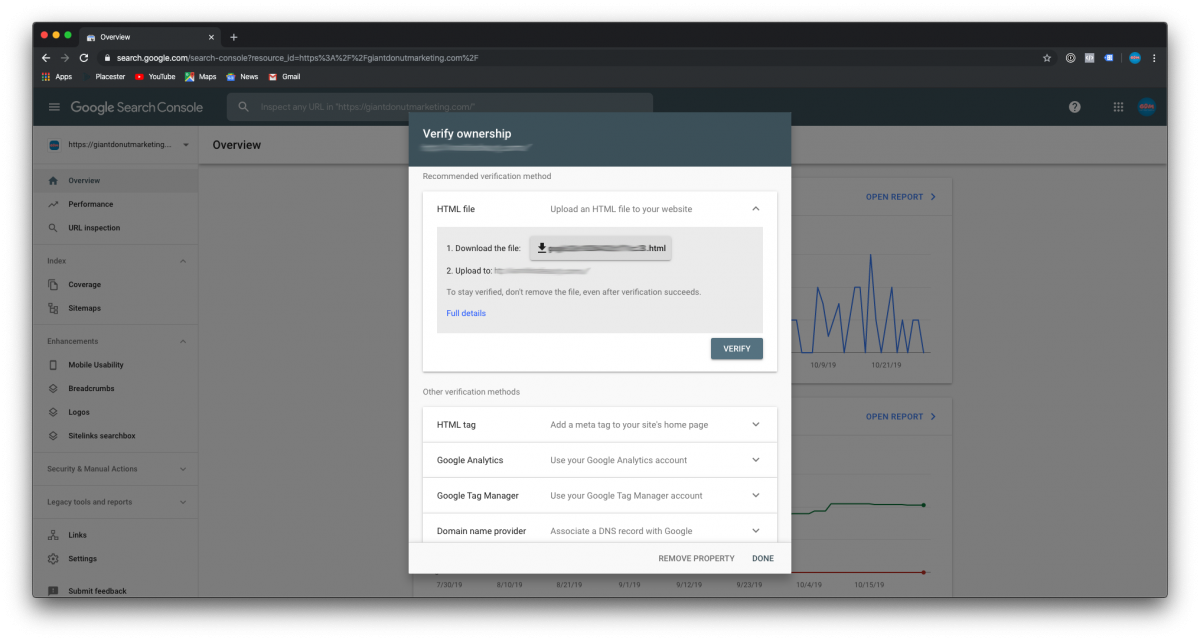 Advanced Features
Successfully setting up your sitemap is just the first step towards improving your organic Google Rankings! There are several other components to Search Console that make it a phenomenal tool for managing your site's organic positioning.
1. Search Console Performance Reports
Located under the Search Console Overview, the performance tab gives you deeper insights into your websites performance based on clicks, impressions, clickthrough rates, and organic positioning. With several default date ranges (including custom) you can use this report to identify high value keywords and positions, while also isolating areas where you can improve your lesser rankings.
2. URL Inspection Tool
Very useful for checking new pages, or troubleshooting indexed page issues, the URL Inspection Tool allows you to search the active index status of any single page on the website. You can also check for errors on the page, index status changes, and other valuable information.
3. Index Coverage Reports
This report shows you you all the actively ranked pages on your website, as well as any errors, or pages excluded from rankings. Using this report you can ensure that important pages are indexed properly and attaining more ranking, while also addressing any negative ranking errors.
4. Mobile Usability Enhancement Reports
Along with several other products listed in Search Console as Enhancements, the Mobile Usability Reports give you deeper insights into the websites responsive characteristics. Often website fonts or buttons will be too small, certain images won't scale right, and other various issues will arise. This report gives you access to any outstanding errors with your enhanced features within Search Console!
Conclusion
Google Search Console is an extremely powerful tool, and every website needs it configured properly. Once you have harness the power of this platform, you will be able to more accurately identify results of your website, find conversion drivers, and improve your website's organic rankings!
Overview
One of the most common problems a digital marketing agency faces is incorrectly setup Google Analytics Accounts. As the software platform has aged, the menu and management structures have become extremely complex, making proper setup more vital to site performance. Improper setup can lead to traffic losses, missing keyword reporting, and other negative ranking characteristics. Below are the steps our agency uses for setting up Google Analytics properly.
Step 1.
The first step when setting up Google Analytics is Business Account Creation. You can access this setup/login screen from the link google.com/analytics. As of October of 2019, this is the latest screenshot of Google's site's interface: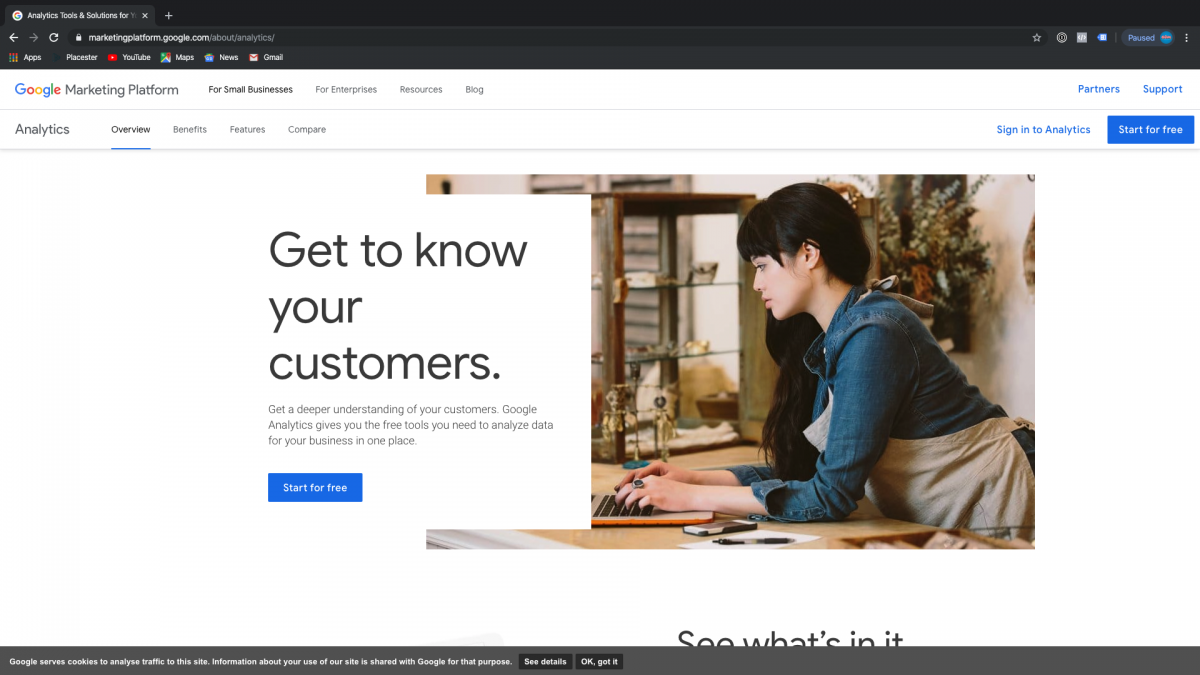 Step 2.
Once you are logged in, depending on your property permissions (you either have access to one property, or multiple properties) you will then see the Google Analytics Overview Page.
If you do not have any existing properties, you will be taken to the website Property Setup Page within the Google Analytics Admin Menu. This menu system is designed with experienced users in mind, so it can be difficult to navigate without some Google Analytics platform knowledge.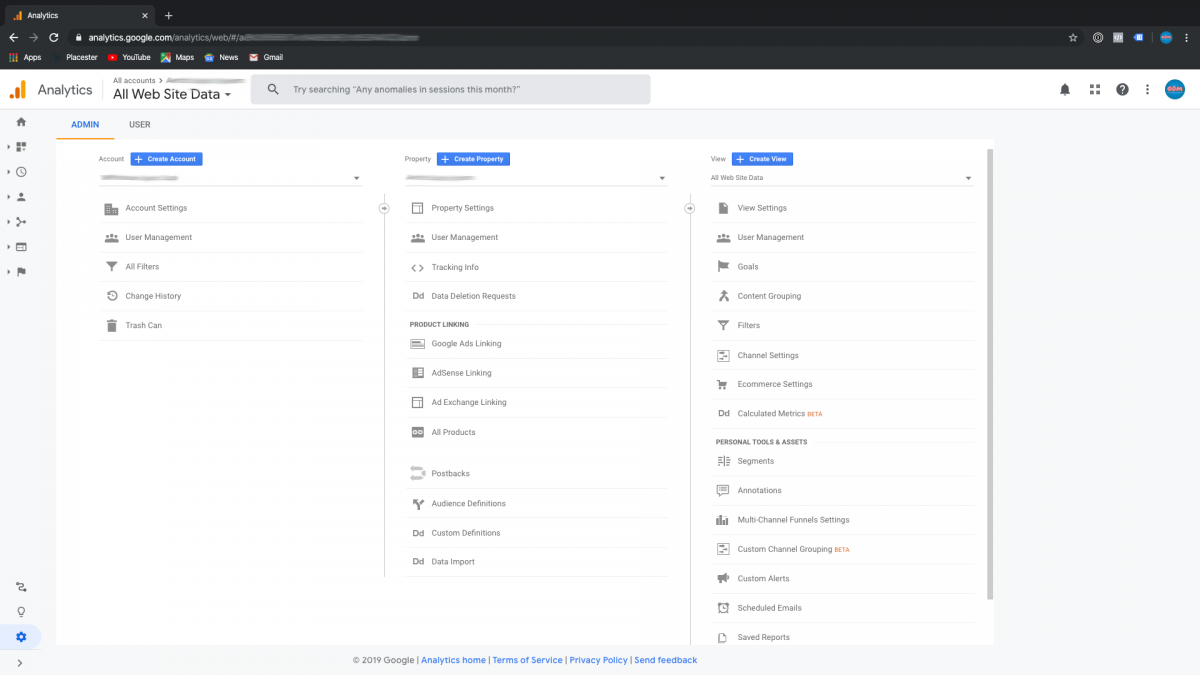 The basic Structure breaks down into three components: The Account Level Access, The Property Level Access, and the actual Website Data Access.
Account Level Access
The first column on the left list is the Account Level Access Menu. These options relate to users that have access to but don't own your business's Google Analytics Account. Similar to domain names, this information is vital to the long term success of your business, and you need to verify your ownership of the Account level property.
Property Level Access
The rest of this guide will explain how to use the Property Level Access Tools within Google Analytics, but for this section we will summarize. This column in the middle of the above is where you configure your specific Google Analytics Properties. This can be one website (if your a local small business and have 1 website) or several (100's of properties if you are a full scale agency) and helps to keep coherent track of all the tracking scripts and Google Product Linking information.
Website Data Access
More of the advanced user features are included in the website data access filters. You can create data experiments, view certain types of users, manage your audience lists, and other complex features that require more controls of the specific Google Analytics Property. This is also where you enable more enhanced Google features such as E-Commerce tracking, Search Reporting, and Google Analytics Goals.
Step 3.
Property Settings
Initially, when you first open the Google Analytics Account (or property) the software defaults to the Property Settings Page. This page is where you name the property, setup the correct URL Expression, and Connect Google Analytics to Google Search Console.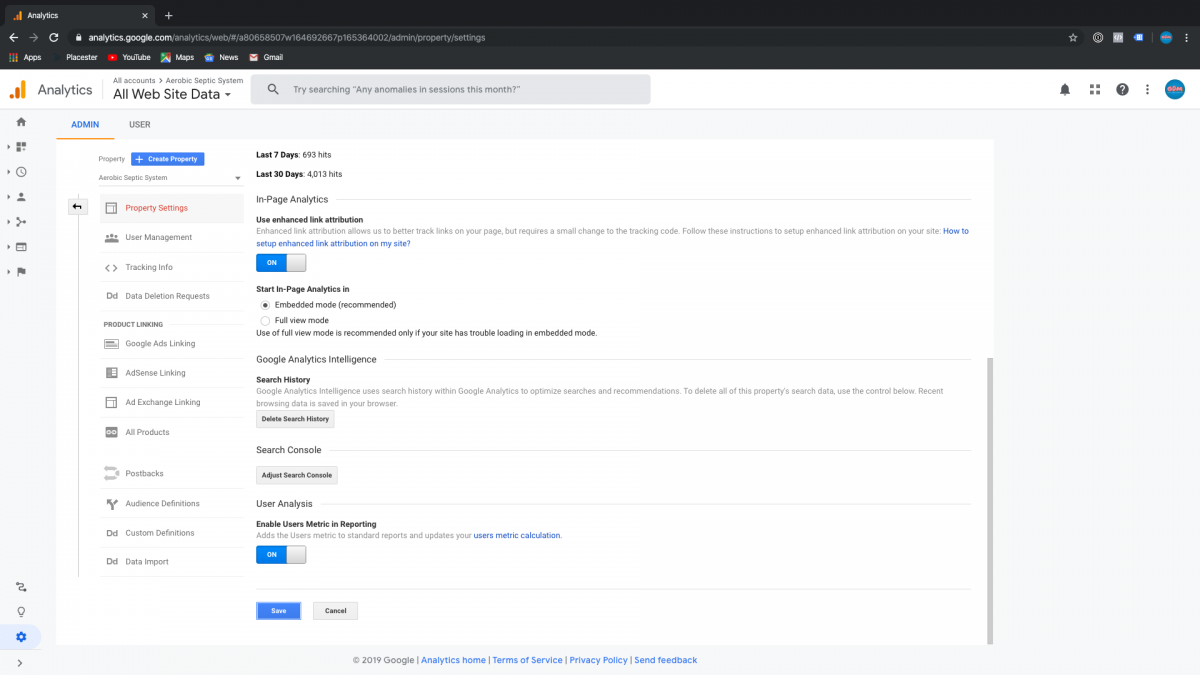 When you press 'save' for the information, that then processes the new property, and forwards you to the Tracking Info Tracking Code Installation page.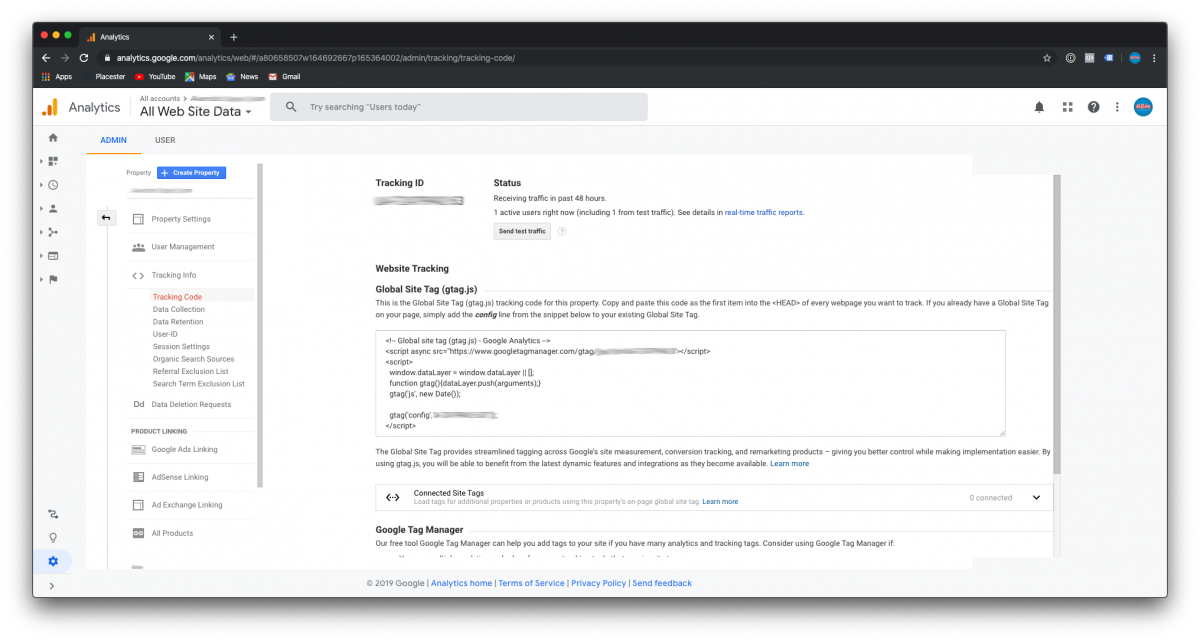 At this point in the software setup, you will need to copy this tracking code into the Asynchronous Header section of your website. If you are unfamiliar with your websites internal functions, make sure and email this information to your developer for properties installation.
Tracking Code Testing
After the script is installed on your website, we need to test the connection to Google Analytics. The testing tool is conveniently located on the Tracking Code Installation Page. After clicking the Send Test Traffic Button and refreshing the page, you will see the verification of your visit to the website. Alternatively, you can visit the website in another browser, then visit the Realtime tab on your analytics account. In this section, you will see yourself on the report, with your related user information.
Key Performance Tweaks
Once you have verified the traffic from your website is reporting properly to Google Analytics, there are a few features you want to enable within the Google Analytics interface.
1. Demographics and Interests Reports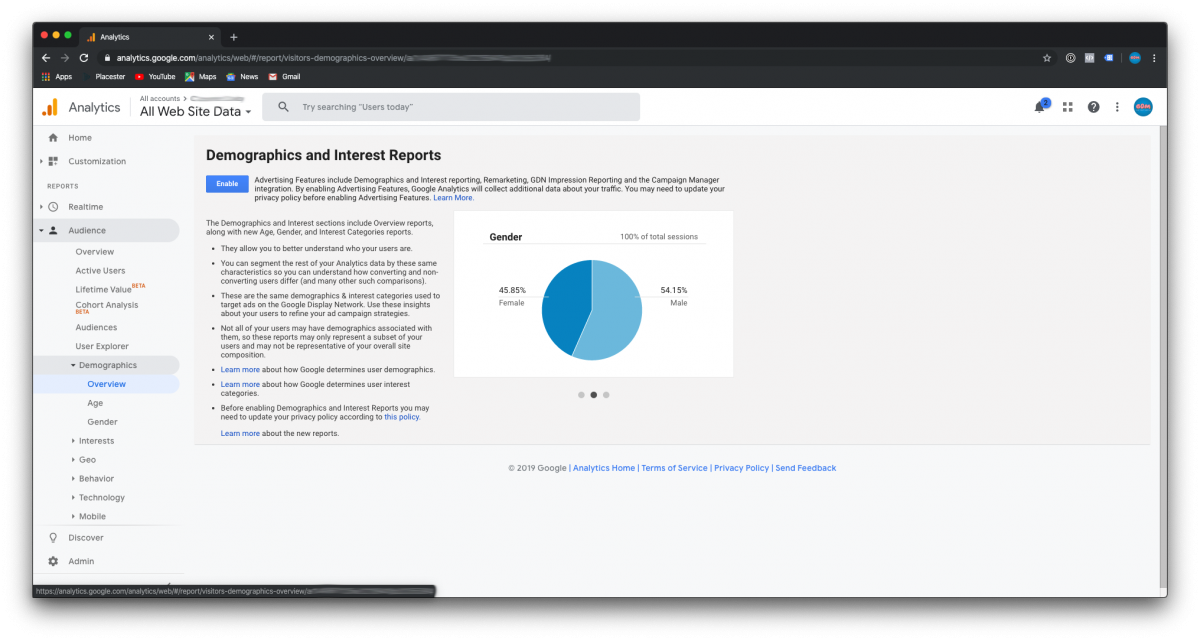 From the Google Analytics Overview (or using the navigation menu on the left-most portion of the screen) navigate to the Audience Overview Page by clicking the Audience Heading. Under the Audience Heading, navigate to Demographics. This will pull up the below screen, that needs some extra permissions to track the information about your site's users. Once enabled, this report gives you more insights into your user's age groups, geographical locations, and other user related metrics.
2. Enable Organic Keyword Reporting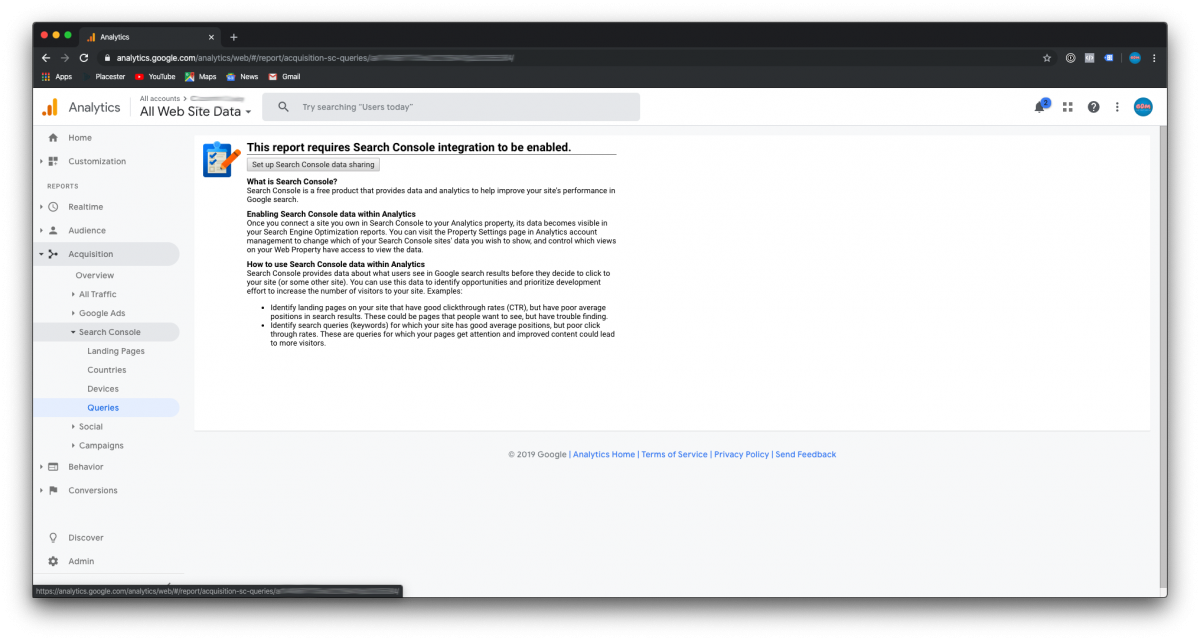 Vital to any internet marketing strategy, properly linking Google Analytics to Google Search console enables the processing of your organic ranking keywords through both properties. This allows you to check your search queries rankings, impressions, landing pages, and other organically related traffic metrics. You can learn more about this process in our article about linking Google Analytics and Google Search Console.
3. Enhanced Conversion Reporting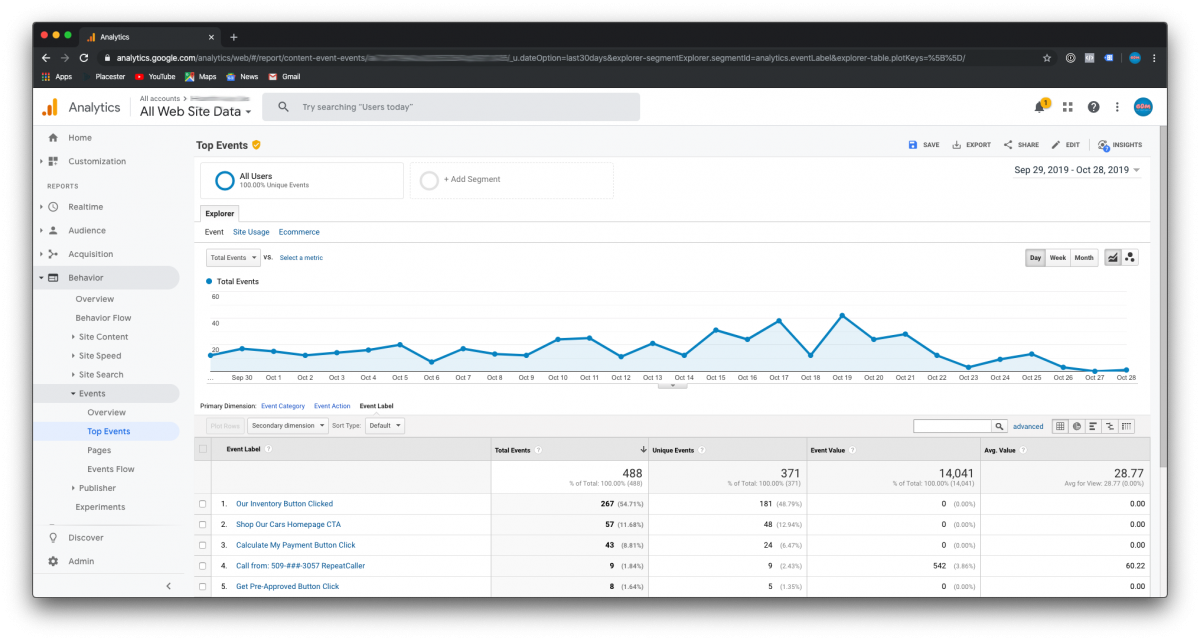 The largest focus of our agency for the past several years, conversion tracking allows you to use your own metrics within the Google Analytics system. These conversions flow throughout all of Google's properties, allowing more efficient lead tracking across their advertising platforms. If you are planning on using Google Ads, or tracking audiences, you will benefit greatly from Conversion Tracking reporting.
4. E-Commerce Tracking Setup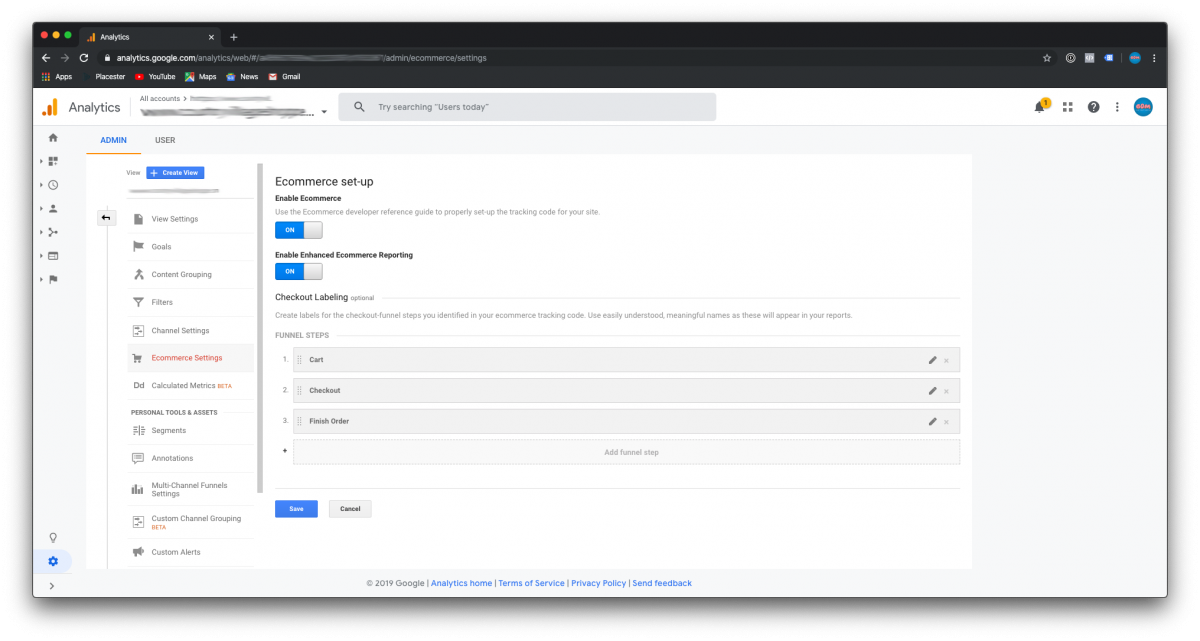 Applicable only to E-Commerce stores, E-Commerce Tracking enables Google's Revenue Reporting and is one of the requirements for Google Ads to function properly. After updating the tracking code on your website (this step is explained on our guide for E-Commerce Tracking Code Setup) you then label your e-commerce conversion funnel process, and this flows your sales data into the E-Commerce reporting section of Google Analytics.
Step. 4
Troubleshooting
If any of the above steps doesn't work for your specific needs, or you are unable to get certain functions working, Google offers help support via live chat, email, or phone service. These services are accessed by clicking the Question Mark in the upper right corner of the screen. Problems can often include traffic not reporting, malformed or incorrectly installed tracking codes, and disconnected Google Properties.
Thats It!
This concludes our Google Analytics setup article! If you have other questions or would like some help with your Google Products, please reach out to the Donut Team!
A Brief Overview Of A Complex Process
There are a few other components of digital marketing that are less understood than Attribution Modeling. In this article, I will provide a brief description of attribution modeling, its purpose in digital advertising, and the most typically supported models used today. My goal throughout this article is to demystify the process of defining attribution, while also providing guidance to start using its power in your digital marketing!
Part One: "What Is Attribution Modeling?"
Attribution Modeling is the process of identifying conversions as they happen across different mediums. In today's digital marketing landscape, conversions do not happen linearly. The process of someone finding your website, reviewing your offerings, and then purchasing (of completing a sales funnel) happens across a multitude of channels. Each of these channels provides their own analytics data as their attribution "source of truth." However, in the interest of showing value, these different channels often create and define metrics that are SKU-ed to their benefit. We see this conversion cycle reporting problem all the time in e-commerce websites, especially with Facebook and Google.
Facebook and Google traditionally require websites to install tracking scripts and pixels on the commerce sectors of websites. They use these scripts to track their user's entries and exits from your website. Because they both are tracking their users and events separately, they aren't able to correctly credit each other with conversion action as it happens on the site, creating an overlap. The most effective way to compete with this overlap in data is proper Attribution Modeling.
Attribution Modeling is best described as the timeline that happens each time your website experiences a conversion. That user has a start point (top of funnel entry) and endpoint (conversion or bounce) to every single interaction they have taken with your business. This timeline follows users across each different channel as they engage with your website from their computer, phone, or tablet.
The goal of attribution modeling is to clearly define the conversion start and endpoints, while also crediting internal steps (or touchpoints) with the appropriate conversion value. This process is definable in several different steps (or models) that are typically broken down in this grouping: last interaction, last non-direct click, last ads click, first interaction, linear, time decay, position-based, and custom attribution modeling. Each of these models allows you to apply your conversion cycle credit to different components of your sales funnel, using these different expressions. I will include explanations for each model here:
1. Last Interaction Attribution Modeling
Last interaction Modeling is simple to define. Whichever channel (organic traffic, paid traffic, social traffic, etc.) and medium (Google Organic, Google Ads, Facebook, etc.) generated the actual conversion event gets 100% of the conversion credit. Almost entirely out-dated as a model (a holdover from days before tracking users between websites), last-click gives the least conversion value to only one click. In over 90% of use cases, this model generates lower conversion efficiency than any other model. Google's (the originator of attribution modeling) Agency Partners and internal Ads Specialists will all recommend switching this attribution model to one of the other options. Avoid it!
2. Last Non-Direct Click Attribution Modeling
Not utilized directly in conversion tracking funnels, Last Non-Direct Click Attribution allows you to remove direct (or branded) channel engagement from your conversion modeling. This helps provide more insightful reporting of the effectiveness of your website by separating out direct or brand-related traffic and relies more heavily on your advertising channels. This lets you get a clearer picture if your secondary channels are helping or hindering your marketing efforts. It also allows you to clearly check your most monetized channels' impacts on your conversions overall, removing the filter of your brand's highly convertible traffic.
3. Last Ads Click Attribution Modeling
Exactly like it sounds, within an advertiser's ecosystem, it allows you to filter conversions by paid conversion point. This means you can source the account, campaign, ad group, and creative/keyword that was last utilized prior to the conversion metric. Used most heavily as a model in Google's Product Suite, this model is more for internal advertising research than specific conversion funnel targeting.
4. First Interaction Attribution Modeling.
The opposite of Last Click, this Attribution Model credits all conversion value to the first interaction of an associated conversion event. This model is very rarely used, however, it is great for extremely long sales funnels were tracking the internal attribution steps typically won't provide more value to the marketing effectiveness. The first interaction also allows you to very clearly value the initial outreach of the client more-so than their followup steps or experiences. Except in special cases like defined above, this model isn't typically used other than for research purposes and trying to more effectively gauge your cost per acquisition values.
5. Linear Attribution Modeling
This attribution model is typically used for applications with large amounts of conversions. When you get into 10K+ conversions per month, you want to gauge the overall effectiveness of your marketing, rather than particular funnel steps. This allows you to segment your conversion revenue into funnel steps that more closely align with your ad spend. This model is not intended for typical advertisers, and by this point, most users will be better off with a custom attribution model at this scale level.
6. Time Decay Attribution Modeling
This attribution model is designed for retail verticals. Typically, retail online marketing is powered through brand identity, and this attribution type rewards more value to conversions getting completed over time. This allows advertisers to recoup more of the advertising cost based on the customer lifetime value, instead of the immediate initial conversion metric.
7. Position Based Attribution Modeling
Most effective for lead-based businesses, position-based attribution modeling applies most of the conversion value to the first/last interactions, then applies a little conversion value to the internal steps. Position Based Modeling is most generally used in lead-based digital marketing because it allows you to attribute conversion value between the top and bottom points of your conversion funnel. This allows you to view your lead generation approach including all the funnel steps utilized throughout the conversion event. This data then allows you to weigh more accurately the value of your entire marketing approach, rather than a specific channel or medium. If your business goal is to generate leads online, use this attribution model exclusively!
8. Custom Attribution Modeling
Custom attribution modeling allows you to build your conversion value in direct alignment with your business goals. This includes the specific % you want for each interaction step, different values per channel/medium, and complex multi-stage value associations. Not for the faint of heart, Custom modeling lets you really control your conversion funnel flow, and define the most valuable individual characteristics of your conversion funnels.
Part Two: "Now What?"
Now that I've explained the usage process for basic attribution modeling, I want to break down how the different models will impact your sales funnel conversion performance.
1. Professional Services
One of the most competitive industries in terms of base advertising costs are professional services. This vertical should use the Position-Based Attribution Model for their Conversion Tracking. This model attributes the conversion value to the first and last interactions primarily and allows you to target two distinct conversion events within your sales funnel. Effectively, you are reporting more targetable conversion points for each lead you generate, and this model aligns with machine learning models more effectively than other lead-based methods.
2. Ecommerce Companies
Depending on the scale of the enterprise, eCommerce companies will typically use Position-Based, Linear, or Custom Attribution Models.
A. The Position-based model works best for eCommerce stores with hybrid conversions that are split between online and offline sales. Typically, phone calls generate a larger amount of revenue than online purchases. Using Position Based Modeling helps connect digital interactions (like ad clicks) with real-world interactions (phone calls) by separating those conversion actions into 2 conversion points.
B. Linear Modeling allows you to view conversion metrics equally throughout your entire digital property. Rather than focusing on the costs associated with advertising, this model helps identify your digital brand power. It also helps companies in high growth mode more aggressively target conversions with less regard to spend.
C. Custom models are catered specifically to the business-specific sales funnel. This functionality is much more complex than the average marketer will want to undertake, and you will want to look at several use cases before attempting a setup on your own.
3. Retail Stores
Retail stores will typically track conversions with the Time Decay Modeling. Retail stores typically drive revenue by acquired customer lifetime values. This model makes repeated long term conversion events more valuable since those customers are less expensive to retain for longer-term revenue. It also helps gain more context for the time lag between promotional events, specials, or digital channel creative. content.
Part Three: The bright future of attribution modeling as the source of truth.
Attribution modeling provides a ton of digital marketing power, however most companies use models that are self advantaged. Google and Facebook use their conversion tracking engines to track their conversions on your website, not the reverse. We need to start using our website in the process of attributions, rather than relying on the platforms belonging to large companies that hold user data hostage, filtering results that generate profits rather than positive user experiences.