So, you've built your new beautiful website. You're showcasing some stellar pictures that capture the essence of your business, you've set up your calls to action, and your site boasts an abundance of information about your products or services to whet the appetite of any potential customer. You're all set. You sit back and let your site work for you.
There's only one problem: You're not actually receiving any contact form submissions – but even worse, you don't know it.
Now, what's even worse than not getting customers is that you're actually communicating to your new potential customers that they can't count on you to respond to them.
Yikes!
In our ever-changing world of technology, we've discovered that diligence and constant testing are the only way to ensure that contact forms on your site are continuously working. Without a game plan, your contact forms can stop working at a moment's notice and there's no one to tell you until a frustrated customer reaches out directly via email or calls your place of business.
All Giant Donut Marketing Monthly Site Maintenance plans include monthly testing of your forms to ensure they continue working for you!
So why don't contact forms just – work? What's going on behind the scenes?
Sending Via PHP Protocol
In the "old" days, any time a contact form was filled out on a website, WordPress would just utilize a fairly simple process via "PHP" to directly send that contact form submission to an email address your contact form plugin was pointed to and it would be sent "from" whatever email address you indicated. This was typically something like "info@yourdomainname.com" or something that used your domain name. There was really no configuration to consider.
This is no longer the case.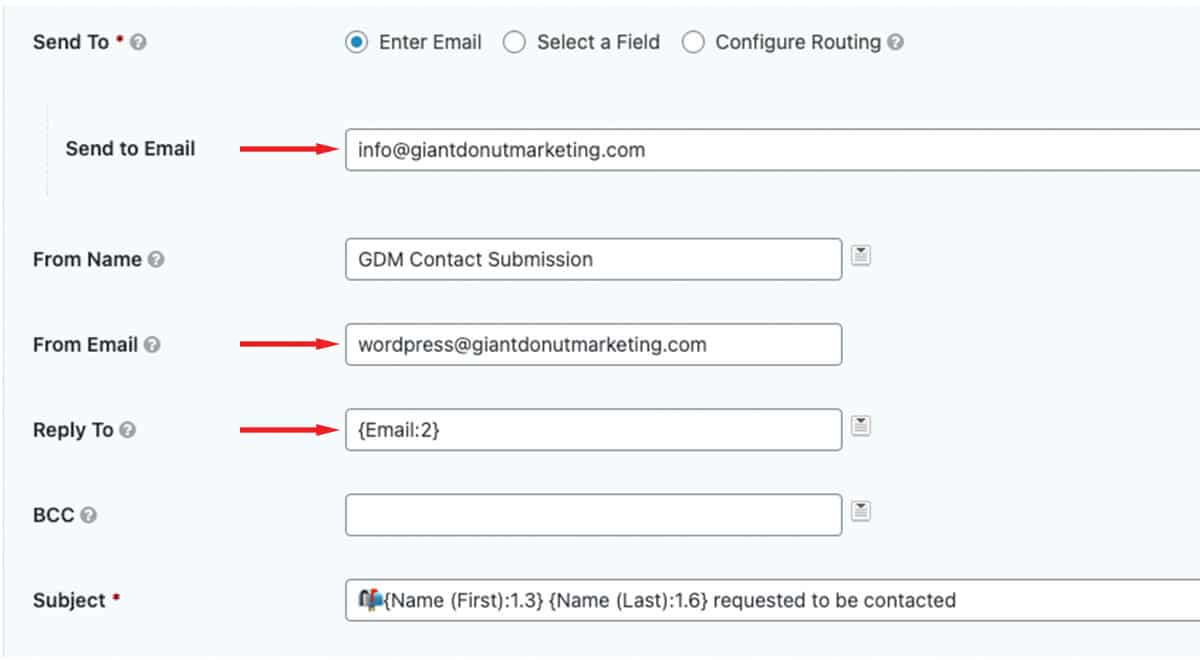 Now, many web servers will no longer "spoof" the email address you're purporting to send from on your behalf. So in our case, for example, we tell our contact form to show that we're sending our contact form emails from the email address "wordpress@giantdonutmarketing.com" with a "Reply To" address of info@giantdonutmarketing.com. In reality though, our emails are hosted with Google, so Google is not actually sending this email – We're kind of asking our web server to do us a favor and send the contact form via email on behalf of Google. But Google doesn't like that either as too many people have historically abused this and any web service could pretend to be sending from your email address using this simple method.
Gravity Forms, SMTP, and SendGrid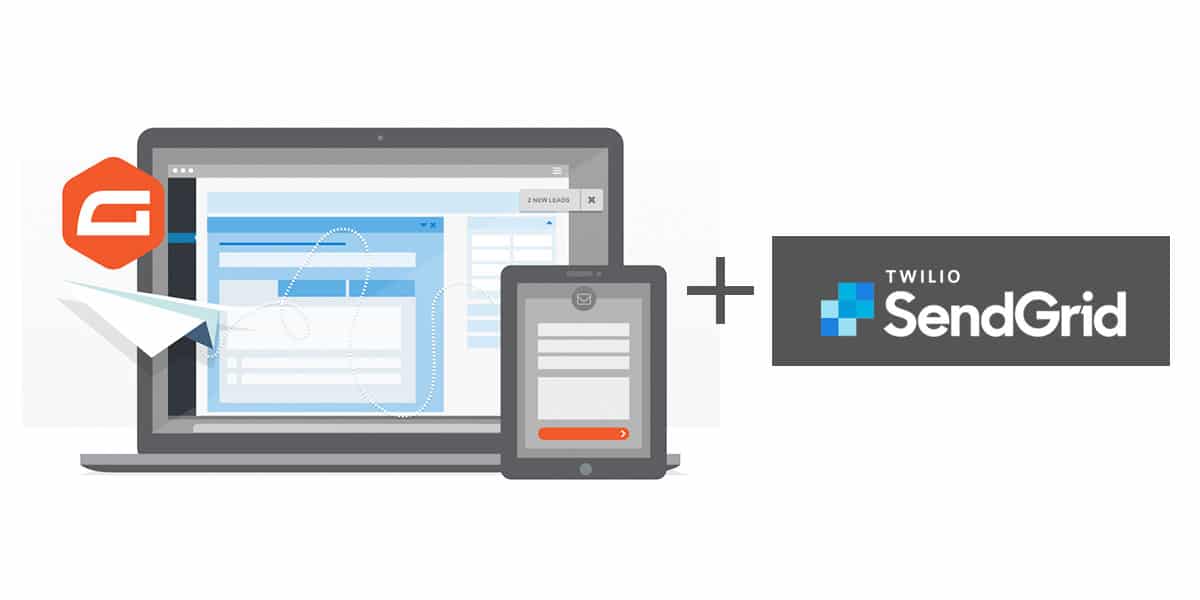 SMTP (or Simple Mail Transfer Protocol) is the preferred method employed to verify you as the owner of your email address so that you can allow WordPress to send contact form submissions on your behalf.
Here at Donut, we use the Gravity Forms plugin for all of our customers' contact forms. Our agency purchased the Elite License which all our customers benefit from. Customers would otherwise pay $60/yr just so their contact forms would work.
We then validate these Gravity Forms via SMTP with another 3rd party application called SendGrid. SendGrid allows us to connect the dots with information we copy and paste into DNS settings with our clients' hosting or domain registrar. For most people, we're already speaking Greek, but just understand that it's like pasting in a permission key where the domain's info is registered to say, "yep, you can send email on our behalf".
So now, after a little test, if all went well, contact forms should now send correctly.
Fallback Methods for your Contact Forms

Even though everything is now set up correctly and working, there's no guarantee that your contact forms will continue working without issue into eternity. Every month, plugin changes, hosting or email requirements, or any other number of technology changes can affect your contact form functionality. Add to that multiple people touching a website, hosting, or domain settings with the possibility of inadvertently breaking a connection in SMTP validation. It happens more than you might think.
This is why Giant Donut tests our clients' contact forms every month, but is also why it's not a bad idea to test weekly if you depend on contact form submissions for business.
The added bonus of using Gravity Forms, is that even if your contact form submissions aren't sending to your email, they still automatically save in the back end of your website. So, you can just compare these entries with what you've actually received in your email at any given time to verify that any given form is working correctly.
So, whether you take care of your own site, or have someone else do it, you'll want to make monthly contact form testing a part of your business routine to make sure you aren't missing customers who are trying to connect with you!
Every website begins with you, the client. The success of your website is as much dependent on you as it is the designer or developer. If you are considering a new website or maybe an upgrade from your old website, this article is a great place to start. Start taking notes, because these are all the things you'll need to know before we can start the design process.
Who is Your Target Audience?
You need to know who you are targeting and what information this demographic will need to engage on your website. You don't need to know anything about design or marketing – just who your demographic is. Giant Donut Marketing will look at competitors and others in your industry to make specific recommendations about design, layout, and general website components that we'll want to include.
If you don't have any marketing strategy, you may even want to consider a marketing consultation for your entire business so you can start moving everything in the right direction including branding, logo development and how to reach customers and clientele through marketing efforts and possibly ad campaigns. All these elements are strategically aimed at your target audience.
Getting Started: Your Domain Name
If you don't have a domain name yet to represent your business, we can make recommendations. Some names are obvious, but sometimes the name you want is taken or your business name is too long and you'll want to shorten it. The goal of a domain name is to make it easy to spell and easy to remember. You may want to consider multiple domain names that will all forward to the same place to capitalize on different options in case someone tries to spell your site name differently or types a variation of your name or domain extension (.org, .com, etc.)
For SEO (Search Engine Optimization), you may want to consider relevant wording in your primary domain name choice. Search engines count your actual domain name and weight it fairly heavily for relevance, so you'll want to take that into consideration if you are considering an obscure name – especially if it is seemingly unrelated to your industry. Obviously the name of your company may dictate otherwise and there are other SEO techniques we can employ to help out.
Site Design
Almost everyone has an idea of what they want their site to look like—or at least what they don't want it to look like. We encourage you to do just that. Find 2 or 3 sites that you really like and a couple of sites that you really don't like. Consider what it is that you like or dislike about these sites and use them as examples when we meet (virtually or in-person) to discuss actual site design and layout.
How Many Pages Does Your Site Need and What Pages do You Need?
A typical informational site may have something like "home", "about us", "services", "contact us" and possibly a "news" or "blog" section. Some clients will want to add in a portfolio, multiple photo galleries, a product page or any other customized page. Larger companies, organizations, or NGOs may want a database of staff with individualized profile pages, subpages/sub-menus for various ministries or any number of other things. If you sell products or services directly on your site, you'll want to integrate eCommerce.
Make a list of all the pages or categories that you think will be important and when we go to the drawing board, we can start to organize those. We will also have specific recommendations relevant to your industry.
Site Content
If you haven't already, you will want to think about content as it relates to your site. Giant Donut Marketing typically requires 100% of the content at least a week before the launch date of your site and photos even earlier than that. Every page does not necessarily require enormous amounts of text, but as a goal, you'll want to aim for roughly a total of 300 words per any key page on your website. Keep the content rich and to the point.
A contact page may only require a mailing address, phone number and email with a contact form, which is fine. An "about" page, on the other hand, may include a lengthy history of an organization or other key information, and again, should total at least 300 words of total content throughout the page.
Unless you plan to utilize our creative writing and proofing services, you will need to carefully consider content for each page, including pertinent sub-headings to break larger sections of text into readable chunks. Spelling and grammar should also be given special attention. If you're not using our creative writing services, we will still give you a punch list of pages we need content for and how we need it organized to layout on the site.
If you want testimonials, taglines, or "calls to action" included in your web site, you should begin to work on these, even if you're unsure where they may go. We can help with your organizational flow for the website in our first meeting so you can create a "to-do" list for content.
Words are Everything
When writing your content, be relevant, but in the back of your mind, consider search engines. Search engines like Google work because of the content on your pages. When writing content, use titles and wording that would be more likely to bring a potential client to you. Don't employ text that may seem irrelevant in the few lines users may see amongst all the competitors on the results page when someone does a search.
Consider words and phrases that you would use to find the content you or a creative writer are writing and use them in your content. "FAQ" or frequently asked questions pages are excellent ways of doing just this. Using the exact phrases someone may type in to find a particular topic can position you strategically above the rest. But keep it relevant. Irrelevant text employed simply to puff up SEO results can actually hurt you.
Photos on Your Site
Photos are a vital part of a web site. Any larger organization, church or specialty business should consider custom, professional photos. If you don't typically think of design, you may not realize how much of a difference a professional photoshoot can make when you launch your website. People will notice if all you have are low resolution, out of focus or weak photos to use. If you have fantastic photos, you will definitely stand out from your competitors.
Stock Photography
Many people choose to use some stock photography to represent an idea they're trying to convey. An NGO in Africa, for example, may find a well-taken stock photo of a little boy eating food in a remote area similar to the region they're trying to portray when in reality this boy has nothing to do with their feeding program. The picture represents accurately what they do, so does not in any way show a lack of integrity. This is a completely acceptable practice and is recommended if your budget doesn't allow for the photos your site deserves or if you simply don't have the photos you need.
Audio and Video
If you think music or a video would make your site pop or communicate your brand more efficiently, you'll want to plan this carefully. Consider what you do when you open a site that automatically plays a video or music. Do you turn the sound off, press "skip intro" or even close the browser in annoyance? Tread carefully with video and audio—always giving the user the option of whether or not to listen or play.
Getting People Where They Need to Go
Are you an organization that survives on donations? If you don't have a way for people to readily click on a link to donate on your starting page, you've already positioned yourself poorly. Will people need to contact you on a regular basis? You will always want to add your phone number in a corner of the site on every page to make it easy for your clients. Are your links ambiguous, forcing people to click on several of them before they find what they're looking for? Catchy or alternative headings can be great, but not if they confuse. Keep it simple.

"Calls to Action" can and should be used throughout your site where appropriate. This is typically a short line of text and then a button or link to something else important on your site. These can be used strategically at the bottom of a page, for example, to encourage users to go where you'd like them to go next. An excellent example of this would be a page outlining a sponsorship program with a defined area at the bottom that says "Consider helping a child today" followed by an appropriately labeled button.
Giant Donut Marketing always designs sites with thoughtful Calls to Actions sprinkled throughout the site.
Blogs and Stuff: Pages that require constant updating
You may be considering a blog or news section or other pages that require constant updating for your site. The only way you should do this is if you have a dedicated person to update your content. There are worse things than not having a blog on your site—like having a blog that is two years out of date, for example. Keep your site free of elements requiring daily/weekly updating unless you sell products or otherwise have a business plan in place to regularly update your site or products.
Budget
If you've never really thought about the web design process, you may vastly under-estimate a budget for a professional website. If you really have no budget for web design, you may want to consider that maybe you can't afford to not have a good website. Today, the first impression people have of you is your website. A poorly designed site will send people to your competition. How often have you made a purchase decision not based on what you know of a company, but on how legit their site looks? When you think about that, you really can't afford to not have a great site.
How Much Will I Be Spending?
Giant Donut Marketing has some great info and a rough pricing guide for website builds here: https://giantdonutmarketing.com/services/website-development/
How Long Does it Take to Complete a Site?
Most smaller projects can be completed in 3-6 weeks from the proposed start date. Larger sites requiring eCommerce and custom functionality may take a month to several months to develop based on the scope of the project and other projects we may be involved in.
Thanks for taking the time to read. We hope this article will help you when you plan your next project!