Integral to the Google Product Suite, Google Search Console is used for tracking organic keywords, as well as diagnosing negative ranking characteristics. Google Search Console tracks your website's sitemap file, making sure your internal link structure is Google Compliant, and your Schema Markups are totally valid. Google Search Console also synchronizes your data into Google Analytics, allowing for cross channel data processing. There are several important steps to keep in mind when setting up your Search Console Account that we will cover in detail below!
Step One: Software Setup
The first step in configuring Google Search Console is to setup your account. Google Search Console is accessed at https://search.google.com/search-console. Upon successful Login you will be taken to the main Search Console Dashboard. You can add website properties by clicking the Add Property Button In The Top Left (Replaced in the below image with a site URL).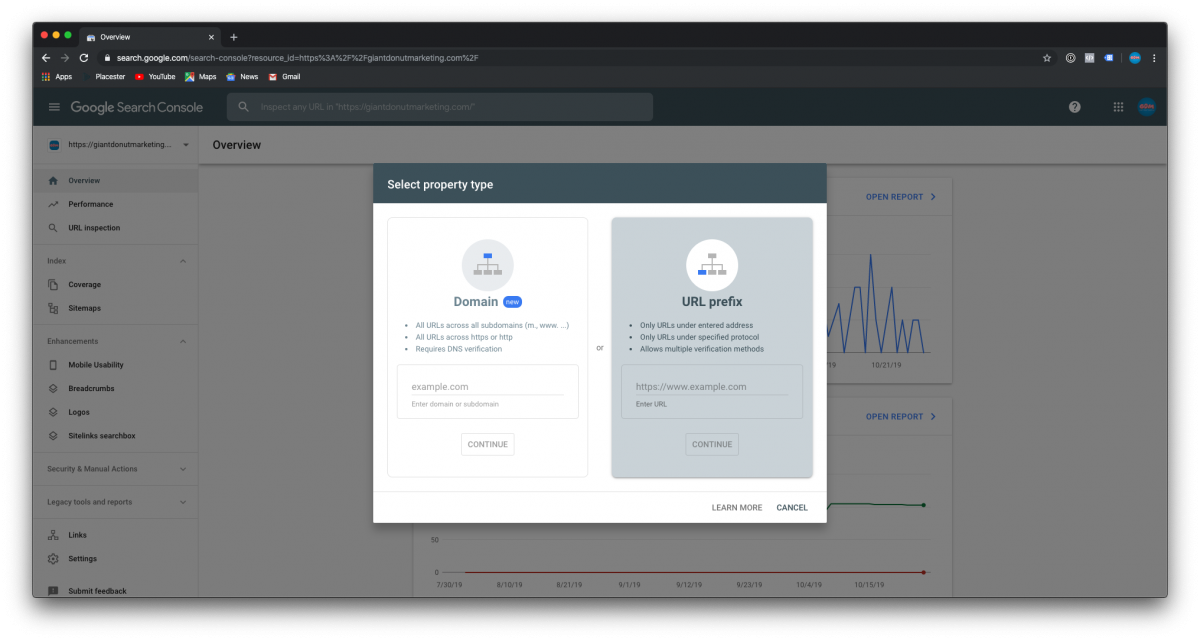 Please Note: You need to ensure the URL expression you enter into Search Console is the correct version of the URL that displays on your website. Google expects you to track all of your traffic through the same URL version, and you must maintain this expression throughout the Google Product Suite. Examples of issues include versions of URL's that contain (or don't contain) WWW, HTTP to HTTPS migrations, and incorrectly configured WordPress Url structures. Once correctly expressed, you will have finished the initial setup process and are ready for account verification!
Step Two: Account Authentication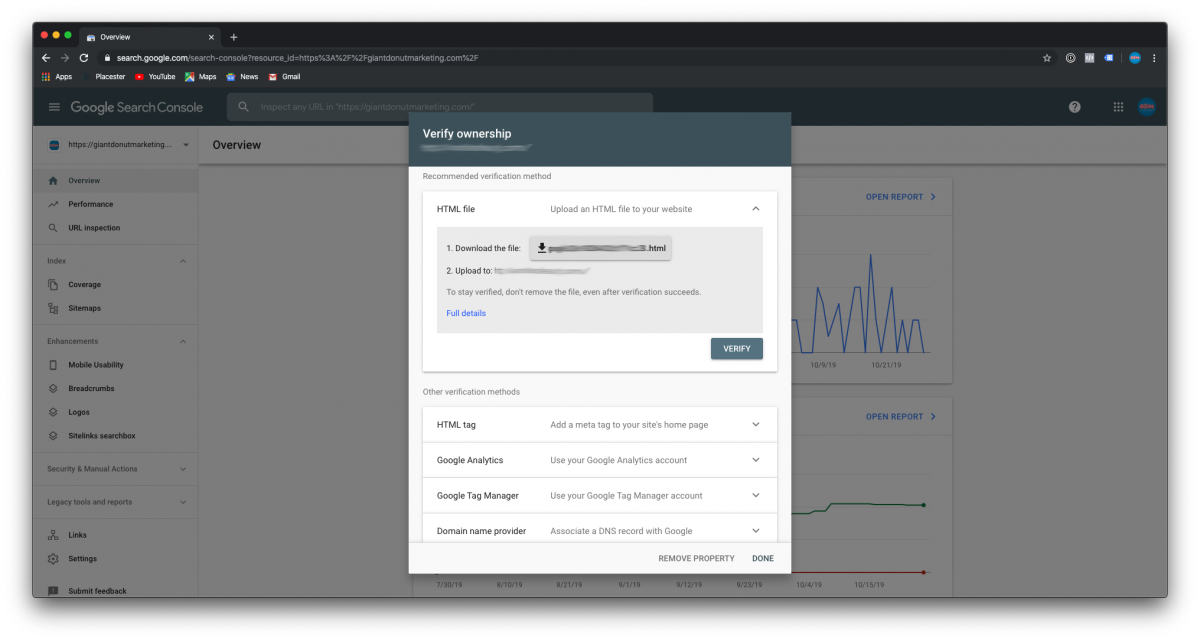 Depending on your access permissions to Google Analytics (typically the first platform setup when launching the Google Product Suite) the property will auto verify. If you fail the Google Analytics check, you will need to verify your search console account with one of the following methods:
HTML Tag Verification Method
Our Preferred type, HTML Tag Usage adds a meta tag to your sites asynchronous header section. This method is great because it is not dependent on your Google Analytics account access level, and tends to have less errors.
Google Analytics Verification Method
Another way to verify your account is with Google Analytics access. You will be able to claim your Google Search Console account if the URL expression your trying to claim matches any existing Google Analytics Profiles. Prone to failures (due to often misconfigured URL expressions) this method can also de-authenticate if your Analytics permissions change, causing ranking loss and data continuity errors. We typically advise against using this verification method.
Google Tag Manager Verification Method
Another tracking platform from Google (used to setup complex conversion interactions) Google Tag Manager can provide Search Console access through the same method as Google Analytics. More dependable then the Analytics side verification, it does require you to already have an active Tag Manager account. This technique is usually best for experts who are already well versed in usage of the Google Product Suite.
Domain Name Provider Verification Method
With this method, Google allows you to claim domain ownership level access to your Search Console account. They will expect you to login to your Registrar account, and Provide access to the Google to put a permanent record on your domain name. This record then ensures ownership long term, and is very unlikely to de-authenticate. This method is the most thorough and effective, but also has the most time lag during setup, and can sometimes run into problems with certain domain providers.
Regardless of the method you use, proper verification will yield a congratulations message, and access to your new Search Console account!
Step Three: Sitemap Configuration
From the menu on the left, click the Index Tab, then navigate to the Sitemaps portion of the Index Tab. You will need to locate the sitemap file on your website. It can typically be found off your homepage URL with either sitemap.xml or sitemap_index.xml, depending on which SEO software your using. Also make sure you don't include extra back slashes in the expression, that will cause it to fail the sitemap verification. Once you click on submit, it will push your sitemap to the Google Crawler, and the site ranking process will start! This will conclude the basic Search Console setup process!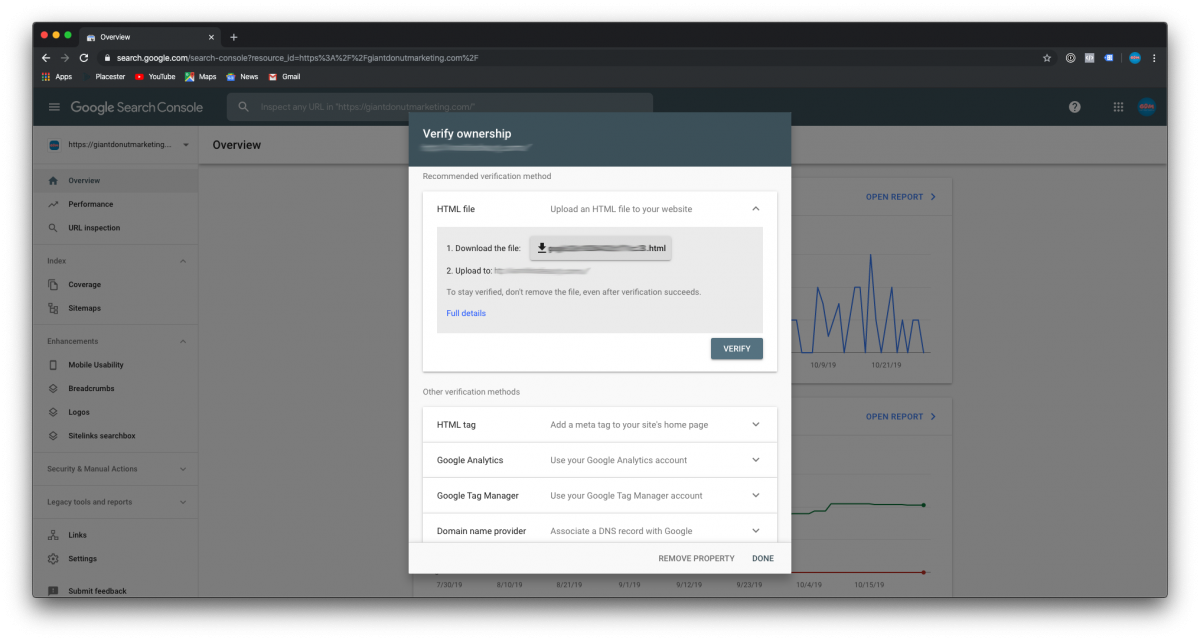 Advanced Features
Successfully setting up your sitemap is just the first step towards improving your organic Google Rankings! There are several other components to Search Console that make it a phenomenal tool for managing your site's organic positioning.
1. Search Console Performance Reports
Located under the Search Console Overview, the performance tab gives you deeper insights into your websites performance based on clicks, impressions, clickthrough rates, and organic positioning. With several default date ranges (including custom) you can use this report to identify high value keywords and positions, while also isolating areas where you can improve your lesser rankings.
2. URL Inspection Tool
Very useful for checking new pages, or troubleshooting indexed page issues, the URL Inspection Tool allows you to search the active index status of any single page on the website. You can also check for errors on the page, index status changes, and other valuable information.
3. Index Coverage Reports
This report shows you you all the actively ranked pages on your website, as well as any errors, or pages excluded from rankings. Using this report you can ensure that important pages are indexed properly and attaining more ranking, while also addressing any negative ranking errors.
4. Mobile Usability Enhancement Reports
Along with several other products listed in Search Console as Enhancements, the Mobile Usability Reports give you deeper insights into the websites responsive characteristics. Often website fonts or buttons will be too small, certain images won't scale right, and other various issues will arise. This report gives you access to any outstanding errors with your enhanced features within Search Console!
Conclusion
Google Search Console is an extremely powerful tool, and every website needs it configured properly. Once you have harness the power of this platform, you will be able to more accurately identify results of your website, find conversion drivers, and improve your website's organic rankings!